Welcome to the all new Dvd-Audio section of the Heavy Metal Resource!

2-12-05

Been a long time since we had something to talk about on this page. Seems that DVD-Audio is now being released as Dual Disc. What you get here is a cd version on one side and the usual surround portion on the flipside. A lot of the titles that have been released in the DVD-Audio are being re-released as Dual Disc which I guess is fine. I am not really sure how the 2 formats, Dual Disc and SACD, are going to survive. I really see a lack of push which I find very disappointing. Downloadable music is taking off and the quality of the music on that is lackluster to say the least. Keep in mind, there is compression when going to MP3 where high resolution audio is lossless. Not that it matters at this point, but we'll see. There has to be a push. I am toying with the idea at this point of just calling this section Multi-Channel as I have the capabilities to listen to both formats and I find them both amazing in terms of quality. I always love to hear from other junkies of these formats, so feel free to weigh in. If I can get my hands on some more product, I'll push more reviews. Keep in mind, the new Judas Priest is suppose to be released in Dual Disc on the first of March. Can't wait for that title! Stay tuned....

11-29-03

Been a while since we checked in. Hope everyone is having a safe holiday season! I just posted 4 more reviews. Seems the mixes keep getting better. Now is a great time jump in to the format if you are sitting on the fence. I am still trying to solidify an overall good source for new announcements. Keep an eye on the upcoming sectionfor your newest titles. Universal Music Group is starting to turn their production up a notch so stay tuned for some good stuff from them. More coming soon!
9-23-03

A couple of new reviews are now posted. Also, wanna see more reason to jump on board? Here is a link to a Dvd-Video player that is a hybrid that plays Dvd-Audio as well as Super Audio CD. For the price it's a lot of bang for the buck. What are you waiting for? Have a great week!
9-18-03

I finally posted the Dvd-audio schedule through the first of December. It's a bit light, but then things start winding down for the music industry later in the year anyway. I think we could see some great strides in the new year for the format, but time will tell. There are some new reviews in the pipeline including Geoff Tate's solo album which is amazing in surround! Stay tuned.
8-31-03

Some new dvd-audio reviews for you all to check out! Hopefully I can get some new release dates up in the next few days. This info is a bit hard to find, but with a little effort....
More reviews on the way!

8-6-03

More information for everyone! I just posted an interview with Silverline Records President Jeff Dean. It is informative and should be a fun read for all. There is some good information in there. I am working on some more reviews. I've got a lot in the pipeline, but it takes time. Thanks for your support!

8-3-03

Hello Dvd-Audio fans and fans of metal and rock music! After some thought and consideration, I decided to open up a section to help and promote Dvd-Audio titles. One thing to mention is that this portion of the site is heavily under construction. What you will find in this update are a few reviews for some rock titles with more coming in the next few weeks. If you have a Dvd-Audio related website or are in the biz, contact me about a link. The Dvd-Audio format offers up some amazing multi-channel sound and could be the replacement for compact disc. The thing that distinguishes Dvd-Audio over SACD is the visual content that is added to each disc. Some discs have limited features while others may offer a bit more. Almost to the point of what some music Dvd-Video's offer. With the format war still brewing between these two formats, I have decided to lean my support towards Dvd-Audio although depending on how things turn out with the possibilities of co-existence, maybe I will bring in SACD eventually as well. Right now I am setup with a Dvd player that has the Advanced Resolution decoder or MLP Lossless as I've heard it as well. If you play these discs on Dvd-Video players (which you can do), the quality is good, but there is a difference. MLP Lossless is the way to go for sure! Stay tuned for more on things related to this format. I hope you find this section worthy and that I have done a decent enough job! As always, thanks for your continued support!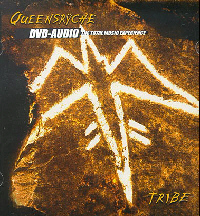 Queensryche

Sammy Hagar

Gary Moore

Disturbed

Geoff Tate

C.O.C.

.38 Special

Motorhead

Eddie Money

Dokken

Tesla

Bruce Dickinson



This page was last updated: November 3, 2013