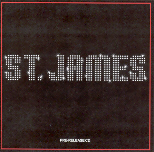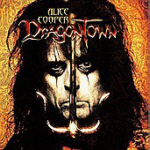 Alice Cooper-DragonTown

        © 2001 Spitfire Records

St. James-Pre-Release Album

                   © St. James, Inc.

The Notes

From one of the most ambitious talents in rock 'n roll, possibly ever, comes another album full of Cooper classics. 'DragonTown' retains the heavier sound heard on 'Brutal Planet'. There is no mistaking the Alice Cooper sound or experience and rock fans have been treated to it for a very long time. A lot of today's acts owe a debt of gratitude to Alice. Getting back to the subject at hand, this new album really gives the fans something to smile about...  literally.

The Tracks

'Triggerman' breaks this album wide open. Good heavy music with a bit of a modern edge. Good melodic chorus lines. 'Deeper' sounds like it is straight off of 'Brutal Planet'. A bit of a dark edge with those familiar chunky rhythms. 'DragonTown' is a bit haunting in it's approach. Classic Alice sound with a more modern sound. Great song!  'Sex, Death, and Money' definitely has a modern feel, but is very cool. The guitar work is fairly unique on this song and the tune is very catchy. 'Fantasy Man' is fairly straight forward and very crunchy sounding. 'Somewhere in the Jungle' is a bit haunting and works well. Here is where the smiles come in. 'Disgraceland' is a riot! Alice doing Elvis! He pulls this track off brilliantly to the last line of the song...  'Thank you, thank you very much'. Definitely will be one of my favorite tracks of 2001! The song also has some bite to it. Gotta see Alice shake his hips to this one live. 'Sister Sara' has a very heavy feel to it. The vocals make this track. Alice really does some interesting things on this album vocally. One of my favorites is 'Every woman has a name'. Acoustic with great orchestration. Alice really is good at these type of tunes. Rack up another classic for the shock rocker. 'I just wanna be God' and 'The Sentinel' are more of the expected heavy stuff. 'It's much too late' gives you a good batch of humor. Hey, right now we could all use a lift, right??

Overall

In regards to any Alice Cooper album, what can you say??  You need this disc. It's his latest chapter in a very brilliant career. I really like his approach to this album and feel this is gonna be a fun tour. Not that his previous tours were not fun, 'cause seeing him is a blast. I just wanna see some of these tunes live. Nice job Alice!  Now get out there and get this one.

The Notes

It's no secret that I am one of the biggest Black 'n Blue fans out there. I believe there run was much too short. Hey, look at the interest in these guy these days. Their albums go for big bucks on ebay. I get quizzed quite a bit on the band and what's new with the members. Well, I'm here to tell you that Jaime is back in town. The new band is called St. James and Jaime has surrounded himself with some pretty damn good talent. On to the tunes!

The Tracks

Now it is important to mention that this album being reviewed is a pre-release and I understand there are some changes in the finalized product. We'll give you the finalized product when it is made available to me. 'Testify' gets the album going with a bang. This track let's you know that this is St. James, the new project with it's own personality. Slam Black 'n Blue with Aerosmith and you'll have the feel. 'Hello Halo' is a straight forward rocker with a fun chorus. Definitely memorable. 'Generation Suicide' has a bit of a classic rock feel to it. The rhythms at times remind me of '22 Acacia Ave' by Iron Maiden. That is where the similarities end however. I really like 'Magical taxi cab'. I can hear Cheap Trick in this one which is no surprise with Jaime being a big fan of Robin Zander. A very fun track. 'Losing your man' was a late addition I believe but very welcome nonetheless. Great melodic mid tempo number. 'Deaf, Dumb, & Blind'  and 'Die like a star' are both melodic tunes with great choruses. Either would work well as a single in my opinion. 'American Man' has a good groove running through it. Like the drum work here. Probably my favorite track on the album. Probably the closest to the Black 'n Blue sound. 'Spinnin' is a fun rocker and has a rock feel of times gone by. Great guitar solo on this one. 'Aliens' is another BNB sounding tune, but is a bit different at the same time. Very fun track to listen to. 'Light of love' closes the album. Gotta love the organ on this one.  Very cool upbeat rocker and great way to close it out.

Overall

First of all, I think Jaime has done well in rounding up not only some great musicians in Danny Morris, Todd Shelly, Joe Frietchen, and Jimmy Maguire, but some really nice guys. The band he surrounds himself with gets the job done well on this album. Second, if you need your fix of Jaime's style of rock, this album is just the thing for you. I will fill you in on any changes to the final product. Keep in mind also that Mike Vescera, formerly of Obsession, MVP, Yngwie Malmsteen, etc. is producing the disc with Jaime. It's gonna be a fun ride!