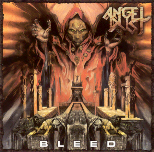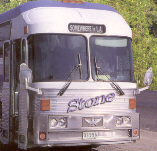 Angel Dust-Bleed

© 1999 Century Media Records

Stone-Somewhere in L.A.

© 1998 Stone Times Three Music

The Notes

Angel Dust are quickly becoming one of my favorite power metal acts. The band isn't necessarily traditional power metal, but more of an effective crossover into atmospheric type metal that Savatage displays so well. Angel Dust is a bit more aggressive however, but extremely tight. The band is from Germany and is releasing through Century Media here in the States.

The Tracks

The point I make previously is driven home immediately with regards to the bands sound with the opening and title track 'Bleed'. Savatage-esque piano mixed with crushing guitar and no sacrifice of melody. Great opener. Turning to a more conventional power sound are tracks like 'Black Rain', 'Never', and 'Addicted to Serenity'. All display a bit more of an edge an aggression without losing the melody. Turning more atmospheric are tracks like the two part 'Follow Me' which both are my favorites on the album. The first part starts very light and melodic and then builds, but in a way abruptly ends. Part two gets it going again with a much deeper feel that gets intense, but finalizes back into the choruses from part one. Absolutely flawless songwriting on these. Other atmospheric tracks include 'Surrender', the ultra-cool 'Sanity' with it's equal mix of keyboard and guitar, and closer 'Liquid Angel' which is a bit lighter with piano, acoustic, and lot's of mood. There are also three bonus tracks on this which include 'Memories' which is from the 'Border of Reality' sessions and previously unreleased. 'Nightmare' is the same track that appeared on 'Border of Reality' but is extended longer. 'Temple of the King' was recorded for the 'Holy Dio' Dio Tribute in 1999.

Overall

This album is without a doubt a highly recommended title. Thisband is not your run of the mill metal band, but is a band on a mission. They progress with each subsequent album in songwriting ability and technicality. This is an album not to miss and definitely my favorite of the bands catalogue.  

The Notes

'Somewhere in L.A.' is Stone's debut and contains 7 blues influenced rock 'n roll tracks. The band is solid in their delivery and really catch the fans attention when they are heard as well as seen in the live experience. The band even caught the attention of legendary movie producer John Carpenter and have collaborated on music for some of his movies. That's gotta look good on one's resume, eh??

The Tracks

Speaking of movie music, 'Teaser' is the opener of the album and is featured in the hotel scene of 'John Carpenter's Vampires'. Great track! 'Don't walk away' is an upbeat infectious number. More rock based than blues on this tune. Big vocals and great choruses. One of my favorites. 'Knight's Bridge Crossing' follows and is a keeper as well. Consistency is retained with this rocking number. 'Drift' is a very appropriate title. The track is very smooth and vocally reminds me a bit of Springsteen. 'Heaven only knows' is a groove rocker. Definitely has a catchy toe tapping beat. Good gritty guitar sound too. 'I'm Ready' shows the band at their Blues best. Love the way Brad solos on these type of songs. He really feels it. Closing the album is another track based in the blues called 'Still Breathin''. The track is instrumental and very smooth. Kind of a quickie, but is effective.

Overall

Stone is really a good band. The band crosses over into a variety of areas and does them all quite well. Kind of a mixed bag of very good tracks. I think these guys have a lot of appeal and will please most at one point or another. Definitely give them a spin, you won't be disappointed!