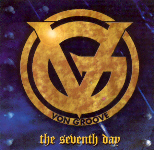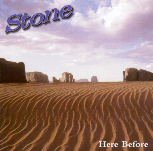 Von Groove-The Seventh Day

                  © 2001 Z Records

  Stone-Here Before

© 1999 Stone times three music

The Notes

'The Seventh Day' is Von Groove's studio debut for new label Z Records. In sound it is very typical of Von Groove stylistically. There is no mistaking the bands great songwriting talent and this album is another gem in a long list of great albums. Tom Lewis replaces Matthew Gerrard on this album at bass guitar. You might remember Tom for his work with Honeymoon Suite as well as Rick Emmett.

The Tracks

Once again Von Groove has crafted a very consistent album with most tracks right in the middle of the conistency scale. Tracks like 'Lily', and 'Oxygen' really offer an upbeat tempo with pretty straight forward music. Opener 'Believe in the one' is definitely what you are used to from this band. 'Seventh Day' is a great track with a bit of heaviness and a lot of melody. 'Guns over London' is a favorite that has a good energy flowing. This track has made it onto ome samplers including the Ultrasound sampler. 'The best in me' is one of the light tracks on the album. We always expect one or two don't we?? The other would be 'Heaven knows your name'. Both of these tracks are very good. Album closer 'Angel City' has a cool feel to it. Very guitar driven track with memorable choruses.

Overall

'The Seventh Day' gives us another great chapter in the history of a great band. Nothing new here, but we always like what this band offers and consistency from album to album is their best offering. Sure there is a new element added here and there, but the core of Von Groove which is great hard rock and roll will always be there and as long as they continue this approach, the fans will be as well. Very good release.

The Notes

Stone is an L.A. based blues rock band that have a very fresh approach to their songwriting. They are not your every day blues rock band. These guys get to work with horror master John Carpenter. They have contributed their track 'Teaser' to the 'Vampires' soundtrack and have another track being added to the 'Ghosts of Mars' soundtrack. Seeing these guys live is believing. This band comes across very professional and put on a great show to boot!

The Tracks

I actually saw these guys live and hadn't really heard them before with the exception of the track on the 'Vampires' soundtrack. This album is a real treat. 'Here Before' opens the album in a very upbeat manner.  'Show Me' is upbeat and laid back at the same time. Some of Brad Wilson's vocals have a Springsteen feel to them. 'Cool Running' is a definite favorite of mine. It is a very smooth flowing track as is most of the music on the disc. 'Home' is a very good laid back tune that displays a lot of atmosphere. 'Something goin' on' is another groove track that has some very cool guitar work throughout. Another of my favorites from the album. Speaking of the blues, the Jimmy Reed penned tune 'Baby, What you want me to do(peepin' and hidin'' is blues at it's best. 'Across the Mojave' is a very cool instrumental that shows a lot of discipline and finesse. Other standouts include 'The Ballad of John Lee' with it's blues sensibility, 'Never Again', and 'Further on up the road'.

Overall

This section may be the most important of this review. With an album void of any weak tracks, it's hard to find standouts when they really all are. Stone delivers their music with lots of emotion and straight from the soul. Doesn't hurt to have friends like John Carpenter to add the icing to the cake either. This album is brilliant and highly recommended especially if you dig your music with blues influence. Very well done guys!