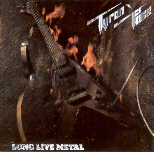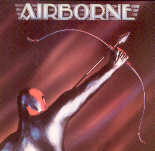 Tyran Pace-Long Live Metal

            © 1985 Wintrup Musik

Airborne-Airborne

© 2001 Rewind Records

The Notes

Tyran Pace was one of the bands that featured Ralf Scheepers who is known for his work with Gamma Ray and more recently Primal Fear. 'Long Live Metal' takes us back to the heyday of loud music and excess. Tyran Pace dealt in the heavier side of th genre and really put out some classic metal albums.

The Tracks

'Long live Metal' is definitely one of the heavier 80's albums that would still constitute power metal and not cross into the thrash barriers. Ralf's vocals are a bit different but at the same time a bit of what you are already used to. Very good range throughout. 'Shockwaves' breaks the album wide open and really sets the tone for what is to come. 'Red Sweat', 'Play all Night' and 'Law and Order' embrace metal stylings with a lot of crunch. 'Wheels of Love' takes the music back up a notch with it's frantic drumming and rhythms. 'Shake Down' has some cool sounding guitar work. 'Night of the Wolves', 'Raid the Victims', and 'Killers on the Highway' stay consistent with the rest of the album in intensity. That is something that jumps out at you while listening to this album is how conistent it is in intensity. Not a mellow track to be found.

Overall

These kinds of reissues always put a smile on my face. I spent my high school days listening to this very kind of music. I thank Noise Records for giving us this classic and recommend it to all metal fans of the crazy 80's scene!

The Notes

I wasn't very familar with Airborne as it was a bit before my time. I was however very familiar with one of it's members. Beau Hill was one of the hottest producers to the 80's hard rock scene. I used to buy up just about everything with this guys name on it. You knew what caliber of bands he dealt with and he is definitely responsible for some of the brightest moments in that era. Looking back to this album, it also released other notables such as Mike Baird to the ranks of Journey and Larry Stewart who went on to Country Western stars Restless Heart.

The Tracks

This band in some ways is similar to the likes of Styx, Kansas and others of that time era although these guys were a bit heavier. Listening to tracks like 'The Lady Knows Best' show us those similarities especially in the chorus lines. There is also some similar guitar sound that reminds me a bit of Brain May of Queen. 'Feel Like Lovin'' comes across fairly crunchy. Pretty memorable as well. I like the nostalgic sound of 'Ghost of Love'. These guys remind me a ton of Styx when they sing these multi-vocal harmonies. Very gritty guitar sound for it's day as well. One of my favorites is 'Wastin' my Time' with it's hint of what radio used to be soundwise. 'No Exception to the Rule' is awesome. Very laid back with exceptional vocals once again. 'Soldier of Fortune' has some of my favorite guitar workings on the album. Back and forth from acoustic to electric. Keeping with the consistency of the album are 'That's where my love goes', 'Life in the City', and 'Stand up'. 'Optimystical' closes the album a bit heavier. Kind of like JY from Styx in my opinion. I would definitely say thse guys are like Styx, just slightly heavier. More punch throughout as well.

Overall

Another great effort from Song Haus Music! I always say that these guys offer up some of the best remasters and this is no exception. Song Haus gets into the vaults and really digs up some classics that otherwise could be lost forever. If you like the stylings of the 70's stadium rockers, definitely check these guys out!