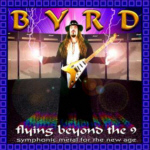 Byrd-Flying beyond the 9

      © 2001 James Byrd Music

The Notes

James Byrd releases to us an album of symphonic power metal. Some may be familiar with James from his days with Fifth Angel. He has also done some projects using his name like James Byrd's Atlantis Rising as well as the James Byrd group. In sound, he reminds me a lot of Yngwie Malmsteen. His compositions are a bit more accessible than Yngwie's but just as technical at times. Lot's of melody flowing from each track.

The Music

As mentioned before, the music has a large amount of melody, but does have some intensity as well. There is also a majestic feel as well. James' approach to music is a bit different than the melodic power metal being released by a lot of the European scene. His music is much slower in tempo, but comes across very dynamic. Consistency is also one of his attributes. The music on the album is flavored the same throughout yet still attaining it's own personality. Tracks that I dig include 'Everything to me', 'Paradise tonight', 'Flying beyond the 9', the visual 'All of me(an allegory)', and 'Nevermore'. Now I do like them all, but find these as my favorites. There is a very good balance of keyboards, guitars, and low end throughout. Vocals are very good and mix with the tracks well. This album consumed some time in the making and stands well up against similar artists in style.

Overall

Symphonic power metal it is without a doubt. Think about the term Symhonic. Not necessarily using a symphony, but created a very large sound with a lot of depth. That is what this album gives you. You also get consistency from start to finish. James can be proud of his accomplishment with this release. It has the major leagues feel and raises his status even higher than it was. Very nicely done!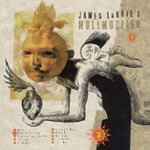 James LaBrie's Mullmuzzler-Vol. 2

             © 2001 Magna Carta Records

The Notes

Dream Theater frontman James LaBrie has been a very busy guy recently. Remember the Leonardo Original Cast Recording?? He was involved with Trent Gardner on that release and works with him a bit again on the latest Mullmuzzler project. It has been a couple of years since the first Mullmuzzler was released. The album seemed to gain good acceptance from the Dream Theater fan base and you had to know there would be more coming.

The Music

This album has a bit of music for everybody. You'll notice right away the Rush influence on opener 'Afterlife'. Has that familiar sound we've all grown to love. A bit of Dream Theater there as well. 'Venice Burning' starts off light, but jumps into it's progressive bliss. There are a couple of very good light tracks that really stand out. 'Falling', and 'A simple man' are absolutely outstanding. If you love James' voice, you'll roll your ears in these two tracks. 'A simple man' does interject some crunch as well, but is relatively smooth overall. My favorite track and probably the one to be nominated as something Dream Theater might have released is 'Save Me'. 'Stranger' would be heavily favored as well. Very familiar tempos and structure. Amazing tracks! 'Believe' should've been mentioned in the lighter tracks. An acoustic based track with dreamy melodies and an equal amount of piano. Another Dream Theater candidate. 'Listening' is very visual and has a great vibe. 'Tell Me' is cool with it's different sounding guitar work and feel.

Overall

If you liked the first Mullmuzzler, you are gonna love this. I think this album is not only a progression for the band but an even better second release. This album is deserving of some very positive sales and should get some attention. If you are not familiar with this band, grab a copy. If you are familiar with James and Dream Theater, you'll probably be very happy with the album. This album isn't a Dream Theater clone, but does have similarities in places. A very worthwhile effort. Mid September 2001 release.