Black Label Society-Stronger than death

                         ©2000 Spitfire Records

Zakk Wylde has to be one of the coolest and proficient guitarists in our day. Being grabbed up years back by Ozzy and then holding his career in his own hands. This guy rocks!

I have to admit. I was never to keen on the Pride and Glory stuff or Zakk's vocals. I avoided his solo stuff until now. I loved the look of the new album cover and decided to chance it. I was glad I did.

The music is very heavy on this album with the exception of 2 tracks. Zakk's vocals are dark and kind of a departure from the southern feel that pushed me away. I really dig his direction on this album as well as his playing. Very pissed off but familiar.

The production is good sounding. There is a lot of kick in the low end and mids. What you get are 10 tracks of great songwriting delivered in a well done package.

The photos in the booklet are a riot. The album is almost worth the price for the 2 photos with the dogs. Lyrics are included also.

Overall, this is a cool disc and I'm back into the Zakk groove. If you like it heavy, pick this one up. You won't regret it.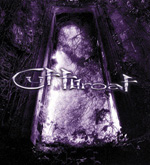 Cut Throat

©1998 Cut Thoat

This album was one I had to have after hearing the soundbytes from the official Cut Throat site. The band hooked up with me for a spotlight and sent a free copy of this album. Let me give you the rundown on it.

This band rocks. They can be very heavy but accessible. They remind me alot of a pissed off Skid Row. As a matter of fact, this is the album Skid Row should have made instead of Subhuman Race. It is very complete and will please most fans of the genre. Lot's of attitude and grind yet does still retain the melodic element to classify it with great bands of the late 80's and early 90's and not the worthless grunge or brutal punishing crap that we have been subjected to for near a decade.

The production sounds fine and is very crankable. For an indie release, actually very indie, this is a very worthwhile package.

The insert is pretty typical. There are some live band photos and some credits. But what sets this disc apart from other indies is that there are 2 cd-rom videos included that will play in your PC. I personally have not got it to work yet as a result of software issues, ut do hear it is cool and others have gotten it to work. I will update the review when I get it all figured out.

Overall, this is one helluva package. For the money, you get 10 great tracks, 2 CD-Rom videos and your butt kicked along the way. This is a great new band that deserves to be heard. The CD is available thru the bands website. You can get there by clicking
here
.