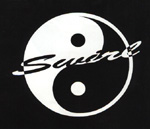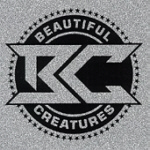 Beautiful Creatures

© 2001 Warner Brothers Records

Swirl-3 track demo

© 2001 D.T. Jones & Swirl

The Notes

Beautiful Creatures is a new project featuring former Bang Tango vocalist Joe LeSte, Glen Sobel who has drummed for Gary Hoey, Jennifer Batten, Saga, and others, Kenny Kweens, DJ Ashba, and Anthony Focx. Now one might wonder about this release. It's domestic in a scene that is really stagnating. Well, guess what??  These guys might just be the shot in the arm us 80's fans have been waiting for. The music is sleazy, politically incorrect, loud, and very obnoxious. But don't also forget that it rocks like hell. Definitely something to put a smile on a good times rocker's face!

The Music

This album reminds me alot of the sleaze rock coming out around 1987. Very crunchy with a lot of very cool guitar work. DJ Ashba should make his mark on the scene with his approach to his playing incorporating a good amount of flash. If you listen to the album you will know what I mean by flash with tracks like opener '1 A.M.', 'Step Back', 'Kick Out, and 'Kickin' for days'. Lot's of great guitar sound on this. 'Goin Off' is another kick in the butt. These tracks give you something that has been missing for a while. In the recent years everyone wanted to lose the flash and tune the guitars down and just sound heavy. This music is a return to the glory days. For lighter side, try out 'New Orleans', 'Time and Time again', and 'Wish'. These tracks will definitely please and don't come across sappy. Joe LeSte sounds a bit different in the way of being a bit raspier, but sounds great and very familiar. Great to have him back on the scene. This album is very consistent in the quality of music you'll get.

Overall

I went into this album not knowing what to expect and what a surprise. I was absolutely thrilled! Makes you feel like it's the 80's all over again. Now don't look at these guys as an 80's throw back. The music is very fresh and should really grab a ton of new fans along the way. They have been playing Ozzfest and as far as I am concerned, they are a mismatch for that tour. These guys are better than any of the new blood on that tour. I very highly recommend this album. Let's hope there are more bands of this caliber on the horizon. It's time to say goodbye to this whiney shit we've been force fed and move on to the fun with the Beautiful Creatures!

The Notes

Swirl are back! this time with new vocalist Mike Pfaler. Now this is just a 3 track demo that Duane passed my way, but I'm here to tell you that these guys are poised to make some noise! There are more tracks coming and a full length album coming soon but I wanted to get the good word out on what these guys have been up to. I met Duane Jones last year at Ultrasound 2000 after being blown away by their two sets. Swirl was definitely one of the big surprises for me at the show. I became a very big fan and am even more impressed by the new material.

The Music

'Don't Say' is the first of the three and probably the most accessible. Pfaler sounds like Shark Island's Richard Black a bit. Got the same snarl in his vocals. The track is basic lyrically and represents the fun that rock should employ. 'More than you ever need' shows a different side of the vocals. Dave Coverdale comes to mind. Not through the whole track however. The track shows strength from everyone in the band. This track is the sleeper of the album. The one that gets better each listen. Love the sleepers. 'Perfect Life' finishes up the disc kind of in the feel of 'More than you ever need'. Mid tempo rocker with a lot of melody. These songs show the progression of the bands sound and songwriting talents.

Overall

I think Swirl have a lot to look forward to. The band is putting in some hard work and displaying the energy they have well. Now this disc isn't something you can run out and get right now, but don't forget these guys. I will be talking more about them soon! Very good stuff!!