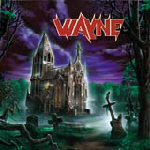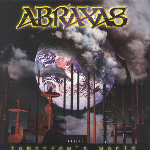 Wayne-Metal Church

© 2001 Nuclear Blast Records

The Notes

David Wayne is the original frontman for master shredders Metal Church. David also fronted the band Reverend after his departure from Metal Church after 'The Dark'. He returned to the band for the reunion album 'Masterpeace' in 1999. No from what I understand, this solo effort from Wayne doesn't exactly sit well with Metal Church due to cover art among other obvious things, but we'll take a look at this one based on the merits of the music.

The Music

The first obvious thing is that this album really rocks. This album is a bit closer to the early days of Metal Church then was 'Masterpeace'. Now I personally liked 'Masterpeace', but some fans felt weakness. This solo album should rest very well with these fans. There are some really aggressive back to power metal basics here Take for instance tracks like 'The Hammer will fall', and 'Burning at the stake'. These tunes are power metal bliss. Crunchy rhythms and in your face vocals! Consistency in style is very evident with this release. Other favorites of mine include 'The Choice', 'Vlad', 'Nightmare pt. II', and 'Hannibal'. If you dig cover tunes, check out the Mountain classic 'Mississippi Queen'. Definitely has a David Wayne twist to it. One other thing to mention is that Metal Church guitarist Craig Wells handles guitar duties.

Overall

I really like this release. It is everything I would expect coming from David Wayne. It is consistently heavy throughout and will definitely make power metal fans happy. It will be interesting to see what kind of aftermath there is concerning Metal Church with the contention this seems to be causing. Nonetheless, this album holds up well and is a very credible release from one of my favorite metal vocalists from the 80's. Definitely recommended!

Abraxas-Tomorrows World

     © 1998 Limb Music Products

The Notes

'Tomorrows World' is a digitally remastered re-release of the Japanese album 'The Liaison' originally released in 1993. Through some very bad luck the album never saw it's European release until this version in 1998.  Also on the disc are 3 bonus tracks not available on the original version. After a lot of blood, sweat, and tears, the album finally hits its ownhome market as well as other parts of the world and has been recieved well.

The Music

This is some very seriously good melodic power metal. If this album had been released as intended in European markets in 1993, it would have made some serious noise. It has a sound ahead of it's time. Stylistically, there are many elements including power metal, some progressive, and all with lot's of precision and melody. 'Gates to Eden' gets the album going and really sets the tone for the rest of the listen. 'Explorers' hits the progressive feel a bit as does 'Dream Dealer'. 'Cry of the Nature' kicks it into high gear as far as speed goes. Ripping guitar solo on that one as well. That particular track sounds like something you would hear from Gamma Ray. Some of my favorites include 'Place without mirrors', 'Crusaders Prayer', 'Euphoria', and 'The Liaison' with the latter providing an intense listen. As far as the 3 bonus tracks, they are pretty consistent with the feel of the album. All of them rock relatively hard and have the melodies as well.

Overall

This album was seriously long overdue. It's really great that Limb Music stepped up to the plate and got this thing out to the fans. With it's initial release only in Japan, it really was hard to find in other areas of the world and is very welcome by the fans. The album itself is very good especially if you like it heavy. I would recommend getting a copy of this one. Good stuff!