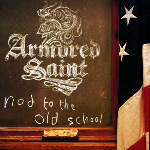 Armored Saint-Nod to the old school

                   © 2001 Metal Blade Records

The Notes

'Nod to the old school' is a nifty 2 disc set that has a little bit of everything. There are new tracks. There are new/old tracks. Hey, there are even video tracks! Can't forget the live tracks. The liner notes are good and you have to check out the bands photos. What makes this cd special is the demos. They were recorded by the late Dave Prichard who passed away some years back. Dave leaves a legacy of great music and production for us fans who were fortunate enough to enjoy him while he was still with us.

The Music

Now as I mentioned before, there is a hell of a lot here to digest, but will be a great ride all of the way. The album opens with some new stuff that has the Armored Saint stamp on it. 'Real Swagger' and 'Unstable' will not disappoint. There is also a new version of the classic 'March of the Saint' that remains true, but gives it a more updated sound and production. 'Day of the Eagle' is a Trower penned track that sounds phenomenal! As far as the live material, you get 'After me, the flood' and'Creepy Feelings' both recorded on the 2000 tour. One thing I haven't mentioned is the three track ep that is here as well. Originally released back in 1983. Yep, the original 3 tracks. You also get some other stuff from the same sessions that produced the ep. Disc 2 opens with the bands contribution to 'The decline of Western Civilization 2' which I believe was only available before now on the soundtrack. The demo tracks close disc 2 out in very memorable fashion. Now move the disc to your computer for the 2 video tracks. Included are 'March of the Saint' and 'Long before I die'. Absolutely astonishing package!

Overall

This is absolutely essential for Armored Saint fans. Really fills in the cracks of their career. Not that there are many, but you get a really good package here. If you are not a fan or have been unfamiliar with this band, get this disc for instant educaton from one of Metal's best performers! If you are a fan, I didn't need to tell you anyway.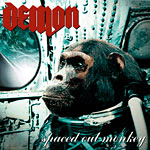 Demon-Spaced out monkey

     © 2001 Record Heaven Music

The Notes

When wondering what the key to longevity is in the music world, who would be better to ask than Record Heavens recent signing Demon. These guys have been doing the music thing for a very long time and have really cranked out a slew of albums. Some of these albums are scheduled for reissue by the label at the end of August 2001. Getting back to the album at hand, this album really showcases what this British outfit is about. Very solid songwriting and musicianship.

The Music

Now I have to admit, I wasn't very familiar with these guys. Some slip by when you try to keep up with the music scene, especially with a great scene already going back in 1984 and beyond. I popped this disc in and my jaw hit the floor. These guys are very tight and deliver there music in very consistent fashion. I observed a good mix of keyboard, guitars, and low end. There is a very generous amount of precision added to each track. 'Sound of the Underground' is a good example of this. This particular track represents the feel of the album well. Great balance in heavy and light with depth added for good measure. 'Cry from the street' is a favorite track of mine. For lighter stuff try out 'Homeless'. It's a bit short, but is a great lead in to 'Child of the dark sky'. Getting a bit more crunchy is 'Dreamtime'. The title track 'Spaced out monkey' fits the same style and is a fun listen lyrically. Consistency in the tracks is this albums best attribute. The album contines and ends in the same fashion it starts. 11 great tracks that will really surprise some listeners.

Overall

This is one band that can be really decieving if you judge them from their name. What you actually get is an absolutely incredible listen that is not overly heavy or light. There is a very good balance of both. The thing that really sticks out is the depth attained in the recordings. These tracks come across visual, moody, and very enjoyable. Finding great bands is a real bang especially when you have a complete back catalogue to go back to. If you haven't heard these guys, check them out. This release is outstanding and highly recommended!