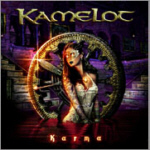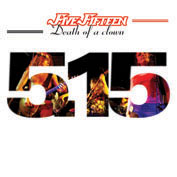 Kamelot-Karma

© 2001 Noise Records

Five Fifteen-Death of a Clown

          © 2001 Record Heaven Music

A few notes

Kamelot is quickly becoming one of the more prestigious Euro metal acts. Great subject material, tight musicianship, and great songwriting are major reasons why. The elements of what makes most bands command attention. 'Karma' is the latest addition to an already great catalog. The album has the usual tight rockers along with some other great arrangements.

The tracks

'Regalis Apertura' is a great instrumental opener that builds and develops into the rocker 'Forever'. 'Forever' is exactly what you expect from Kamelot in it's power metal glory. Also in the same tempo or vein are 'Wings of Despair' , Across the Highlands', and parts of 'Elizabeth'. Speaking of that track, it is a three part track conceptual in nature. 'Mirror, Mirror' get's it started in a bit lighter fashion but slowly builds into 'Requiem for the innocent' which is much more crunchy as a whole. Finishing off the trilogy is 'Fall from Grace' which is fast and heavy. Great sounding tracks. Khan's excellent vocals really enhance the great music. Looking earlier on in the album I really liked 'Karma'. Very good intro and overall sound and feel make this track one of my favorites. As an added bonus to the U.S. release is 'Ne Pleure Pas'. The track is not sung in English and is a bit lighter.

Overall

Kamelot is one of those bands that grow in a positive fashion with each subsequent album. This album is definitely a continuation of the strength of the band. Each release gives you more of the same, but adds to it which makes it a safe bet. The experimental phase is pretty worn out and we have a lot to be thankful for with bands like this. Great consistent music! This one comes highly recommended!   

A few notes

It's been a short while since we had some new material from one of Record Heavens's finest signings, Five Fifteen. 'Death of a Clown'  is the bands latest effort and is quite impressive in a variety of ways. The band hails from Finland and is more classic rock oriented, but adds some bite here and there with great effect. Listening to this new release garners the question 'Why aren't these guys bigger than they are??'

The Tracks

The first thing evident on this album is how well the band pulled off the classic rock sound. For instance, tracks like 'Child Clown' with the great 70's sounding keyboards and 'She kicked your present off the bed' with it's classic melodies and guitar sounds. The latter is absolutely amazing in it's approach. It would be a great single track now as well as 20 years ago. The tracks I was talking about that give you a bit more edge are tunes like 'Season of the Witch', 'Stone cold heartbreaker', 'From London with love', and 'Sometimes it helps'. They may not always be heavy, but do obtain a pretty gritty sound in areas. There is also some very good piano work on this album with  'Sometimes it helps'. Can't forget 'My oh my', the first single. This tune is upbeat and fairly straight forward.

Overall

This is another outstanding effort from Five Fifteen. This album is very consistent throughout and really captures the magic of an era gone by. This doesn't mean however that these guys sound outdated. They utilize a very updated sound which gives the music an added dimension. I really found this to be a great listen and recommend it to fans who dig more rock oriented releases. Top notch!