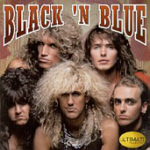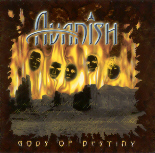 Black 'n Blue-Ultimate Collection

                   © 2001 Hip-O Records

Avanish-Gods of destiny

       © 2001 Ebola Records

A few notes

Finally, Finally, Finally! Black 'n Blue is one of those bands that has really had a loyal following that have been begging for their material for a very long time. This isn't exactly the original albums, but do offer some of the finest material the band has done. There are some tracks I would have rather had, but that is each persons own taste. This album compiles the most common fan favorites. It is nice to see someone on the U.S. shores actually take interest in this bands material and dive right in. The albums have been reissued in limited quantities a couple of separate times overseas, but now the U.S. fans have a chance to roll there ears in this.

The Tracks

Instead of doing a track by track, I just wanna give the overall feel of what to expect if you buy this disc. After all, if you are reading this, you are probably aware of the impact this band had on the 80's scene. The fans have developed a real passion for their music. The music is mastered to 96k/24 bit mastering and comes across pretty good. As far as the track listing, how about 'Nasty,Nasty' or 'Chains around heaven'?? Maybe some 'Miss Mystery' and 'Autoblast'?? Yep. there all there. Really should please most of you diehards!

Overall

This is a good compilation of tracks with some good sound enhancements. I have all of the bands titles on disc already, but this is a good disc to take with you if you want to have the hits collection and only one disc to carry. Also, with this disc is some good liner notes done by former Metal Edge editor Gerri Miller. You've been asking and wanting, so make your voices heard and get this disc. Maybe we will then get some reissues of the full length albums as well!

A few notes

Germany has really done it's fair share for giving us quality metal bands. German metal is really kicking the world's butt right now and isn't interested in taking prisoners. Avanish is a new outfit that one might look at as another power metal act. This might be true, but they have their own distinct sound that sets them apart. Jorg Graeter, vocalist, handles his duties in a different octave than most. Singing a bit lower fits well with the structure of the songwriting. This album finally is released and available through Walding Sound in Germany. The band went thru a few ups and downs getting it out, but can now concentrate on the live experience.

The Tracks

Some of you may remember me reviewing a few tracks from a promo I recieved from the band. These tracks were indeed included on this album. The rest of the album is consistent in nature. The music to me is kind of progressive, meets power, meets melodic. Some of the tracks I dig are 'Ten Years', 'Devil Inside', and 'Blood of love'. There are 12 tracks total that are pretty straight forward and as I already mentioned, consistent. The songwriting is truly the bands own identity and should make them stand out amongst the rest.

Overall

I have been following Avanish for a bit now and find the guys to be really cool to deal with. As far as success goes, the band seem to be hitting in all of the right areas. Songwriting is good. Fellowship with the right people is there. The website is phenomenal looking. Jorg also designs the website displaying more of his talent. The cd looks great as well with the artwork themed the same way as the album. It all looks very professional. I think Avanish is ready to make their mark and be heard. I hope distribution is good and that this album is a bit easier to get which will definitely aid in their rise. Definitely check this one out!