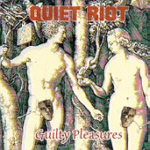 Quiet Riot-Guilty Pleasures

       © 2001 Bodyguard Records

A few notes

Seems like so long ago since the multi-platinum 'Metal Health' was unleashed on the masses. Quiet Riot really made some big noise and really cemented themselves in Rock 'n Roll history. Some may have believed that the band dried up and blew away. In fact, the band kept on releasing albums. 'Guilty Pleasures' in my opinion is one of the best subsequent albums since the glory days. This album brings back a strong sound and those crazy DuBrow vocals. This is probably the closest the band has come to getting back that original sound they were known for.

Standout Tracks

Vicious Circle-Gets this album started off right. Probably the most close to the original sound. Good heavy QR style tune.

Rock the House-This albums 'Mama were all crazee' track. Big choruses. Party rock returns.

I can't make you love me-Laid back song containing a lot of mood element.

Guilty Pleasures-Cool guitar sound. Exaggerated vocals. Definitely Quiet Riot.

Blast from the Past-Sounds like something from 'Condition Critical'. Bit more updated sound.

Street Fighter-Most aggressive on the album and probably my favorite. Faster tempo with good punch.

Fly too high-Laid back. Has a good sound to it. Very smooth.

Overall

After a few weaker albums I wasn't sure what to expect. I had seen band reports from the studio claiming big victory this go around. Those reports were obviously factual. I have been a Quiet Riot fan thru good times and bad and feel they really have hit the nail on the head with this album. Brings back the sound us fans have grown to love as well as the upbeat songwriting and those famous sing-a-long choruses. If you haven't checked in with the band in a while, now is a good time. As an added bonus there is a cd-rom mini movie on the disc that can be viewed on PC. The movie is a making of for this album and has some candid footage that is worth a look.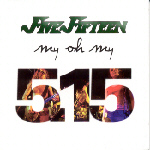 Five Fifteen-My oh My (Single)

          © 2001 Record Heaven Music

A few Notes

Five Fifteen is one of Record Heaven's finest acts. Based in the more classic rock genre, the band is quite technically sound and from what I hear is gaining popularity quickly. 'My oh my' is the first single from the much anticipated 'Death of a Clown' cd. The album contains 3 other tracks. One from 'Death of a Clown', one from 'Six Dimensions' (which is also reviewed on this site), and a live track. Definitely a maxi-single.

Tracks

My oh my-Very good rock based melodic tune that is good choice or a single. These guys just keep getting better!

Season of the Witch-Also taken from new album. A bit more gritty. Great sounding vocals. Still very melodic.

Dancing with Mrs. Fischer-Taken from 'Six Dimensions...'. Good example of what this band offers. Very true to their style. Very catchy.

Call the Doctor-Live track. Very polished live sound. This tune really packs a punch. Like the progressive feel.

Overall

Judging by the 2 tunes from the new album 'Death of a Clown', we are all in for a real treat. The band is showing good continuous growth and has taken their songwriting to the next level. Be sure to watch for the new album 'Death of a Clown' coming from Record Heaven and watch for more here.