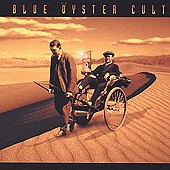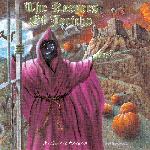 Blue Oyster Cult-The curse of the hidden mirror

               © 2001 BMG/CMC International Records

The Keepers of Jericho-Tribute to Helloween

                                  © 2000 Arise Records

A few notes

From one of classic rock's best bands comes 'The Curse of the Hidden Mirror'. I have been a Blue Oyster Cult fan from the 'Cultosaurus Erectus' days and have found this band to be very consistent. 'Cultosaurus' in my opinion is their masterpiece. How does this new disc stand up. Well, actually quite well. Stylistically it is Blue Oyster Cult with a lot of melody and a bit of intensity. Definitely not their heaviest, but still a good listen. This is the bands second effort for CMC who is now under the Sanctuary Records group. Eric Bloom and Buck Dharma are still there. Without them I would have the same taste in my mouth as Styx. There are some essential players which the band cnnot survive without. These guys classify.

Standout Tracks

Dance on Stilts-Unmistakeable Eric Bloom vocals. Great melody and instantly memorable.

Showtime-Another tune with a great groove. Very melodic as well.

Pocket-First single from the album. Very smooth with good choruses.

One step ahead of the Devil-Heavier tune. Very classic sounding with the organs and guitar sound.

Out of the Darkness-My favorite. Very laid back and smooth. Eric's best vocals in my opinion on this disc.

Eye of the Hurricane-Crunchy rocker. Very catchy. Another favorite of mine.

Good to feel hungry-Best groove of the album. Great bass line. Great album closer.

Overall

The last album, 'Heaven Forbid'  was a bit heavier, but this effort holds up quite well. It seems to bring out the classic Blue Oyster Cult sound quite well. Songwriting is done well and is very ear friendly. The consistency of this bad is one of their best attributes. I hope these guys hang around forever. If the songwriting stays good I'm sure they are capable. I really found this to be an enjoyable listen!

A few notes

In an era when there are a few too many tributes (and there are some pretty bad ones), it's nice to have one come along here and there that sound pretty damn good. This Helloween tribute is one of them. The bands covering the songs are solid,but may be a bit unknown to people on American shores. I am not really gonna give a track rundown. Those interested with this album will be familiar with the tunes already. They are all done pretty well and that is really what is important.

Track Listing

1. Rhapsody-Guardians

2. Sonata Arctica-I want out

3. Heaven's Gate-A little time

4. Metalium-Ride the sky

5. Luca Turilli-I'm alive

6. Morifade-Judas

7. Vision Divine-Eagle fly free

8. Brainstorm-Savage

9. Labyrinth-Future world

10. Cydonia-Save us  *love the Star Trek humor here

11. Squealer-Victim of fate

12. Dark Moor-Halloween

13. Secret Sphere-How many tears

Overall

What brings this tribute across so well is the fun element. These bands all have a tremendous amount of respect for Helloween and the music really shows it. You can also sense that the bands had a great time putting the individual tracks together. If you are a fan of Helloween, check this tribute out. It really does them justice.