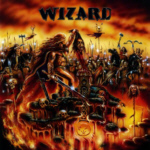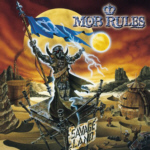 Wizard-Head of the Deciever

       © 2001 Limb Music Products

Mob Rules-Savage Land

  © 2001 Limb Music Products

A few notes

'Head of the Deciever' marks the fourth effort from Germany's Wizard. It seems that some time ago Manowar was a rare breed of true metal as they call it. Recently some new blood has been cropping up like Lost Horizon. Wizard is part of this uprising of intense metal that could grow stronger in the near future. Not that they are rookies however, just gaining new fans who are starting to pay attention.

Standout Tracks

Magic Potion-Very fast and aggressive metal track. Opening pace setter.

Defenders of Metal-Sounds familiar, eh?? Isn't this what Manowar is all about?? Heavy, chunky tune with sing-a-long choruses.

Demon Witches-This one opens sounding a bit likeMaiden, but faster. Sounds great with background elements.

Iron War-Grinding tune that has a great feel to it. Straight forward. Nothing new, just sounds good.

True Metal-This is what these guys play. Solid songwriting. My favorite track. You would swear it was Manowar.

Overall

I hate to keep comparing these guys to Manowar, but the similarities are remarkable. Wizard is very good at what they do. This album is very consistent in style from track to track. Musicianship is equally impressive. If you are looking for your 'true metal', this album should fill the need.

A few notes

Germany's impressive Mob Rules came out of the gates in 1999 with this impressive debut album. The band in some ways reminds me of Heaven's Gate. As a matter of fact, the music on this album was mixed by Sascha Paeth. In my opinion, this band is one of Limb Schnoor's best finds.

Standout Tracks

Insurgeria-Great melody. Good control in intensity. Really like the vocals.

Secret Signs-Maiden-like elements scattered here and there. Great bold sounding mid-section.

Savage Land part I (Strangers in time)-I really dig all parts to this song. Very solid playing from all on this one. Mid-tempo heavy.

Savage Land part II (Pianista)-Very dreamy sounding. Lighter of the two tracks. Great, great stuff!

Savage Land part III (No reason why)-Mid tempo with lots of melody. Great keyboard enhancements.

Blaze of first warning-Heavy tune with faster tempo. Great guitar sound.  Straight forward and in your face.

Pray for sunlight-Great vocal parts. Upbeat medium rocker with overflowing melody.

End of all days-My favorite of the album. Phenomenal track with orchestration and acoustic arrangements. Must hear to see what I mean.

Overall

Picking standout tracks is a feat on this album. There are no weak tracks. Kind of like taking the strongest of the strongest. This band has quickly become one of my favorites. The two albums released so far are equally as impressive as each other. The only thing I can say at this point is that this is a must have! Very highly recommended.