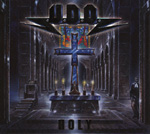 UDO-Holy

©2000 Nuclear Blast

The rowdiest German vocalist out there is back with a new offering. UDO has to be one of the most consistent metal artists of our time. He knows what he is good at and he doesn't stray.

The thing that really stands out on this particular UDO album is how much it sounds like classic Accept. UDO has alway made thunderous music, but aside from the vocal parts, the music was a bit different than usual Accept. It was all very heavy and very cool, but this album will please Accept fans who miss the band.

Wine ages and gets better with time. The same can be said of UDO. This album kicks butt and takes no prisoners. Very solid songwriting weaves it's way through this album. Take for instance 'Raiders of Beyond'. I can hear this on Objection Overruled. The chants are there that Accept was known for. What more can you say??

The packaging is Digipak which I don't care much for personally. It doesn't seem to stand the test of time. I would be willing to bet that this is limited and a Jewel Box version will hit next pressing. A booklet is included though which contains member photos and lyrics. Sound is great. Crank this sucker up and piss the neighbors off!

I can't find anything wrong with this release. I classify it as a must have for all fans of Metal especially you Accept fans. Good news! It is domestic via Nuclear Blast. The remaining UDO releases are all set for reissue in the coming months. Stay tuned to the Resource for info.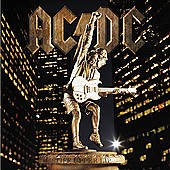 Speaking of bands that stay with the same winning formula, AC/DC is definitely one. They have finally released a new studio effort after a fairly long absence. This year is shaping up pretty dang good.

The formula is simple. Write good rock 'n Roll, don't implement 90's crap into it, use what worked for you in the past because that's what made you who you were in the first place and you have the formula for a successful release in the year 2000.

The album contains elements from Bon Scott era AC/DC as well as 80's style Brian Johnson era stuff. The radio stations are adding singles off of this album like McDonalds sells those crappy burgers, by the tons. I think this album will do very well. It may not be the best album they have written, but does stand on it's own merits.

The artwork is pretty cool. A bronze statue of Angus doing the duck walk. Wish there were current photos of the band. These guys have been doing this a very long time. Wanted to see the photos. Lyrics are included as well. Sound is great.

I recommend this release. It is cool and has a great groove running through it. Definitely AC/DC. Buy this disc and send a strong message to the recording industry that we are ready to start buying those rock albums by the boatloads. You know, release it and the fans will buy!

AC/DC-Stiff upper lip

  ©2000 Elektra Records