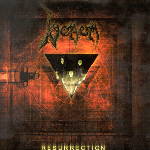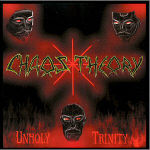 Venom-Resurrection

© 2000 SPV/Steamhammer

Chaos Theory-Unholy Trinity

            © 1999 Chaos Theory, Inc.

A few notes

I'll be honest. I wasn't much of a Venom fan in the past. At the time the band surfaced in the early 80's I found them average with silly subject material. A lot of time has passed since then and I had heard the band has really turned up solid. This album is a bit of a reunion of sorts and is punishingly heavy. The band without a doubt has never sounded better. Alot of the same subject material still exists, but the music will kick you in the teeth.

Standout Tracks

Resurrection-Classic metal rhythms with a ton of punch. Great way to get things going on.

Pain-Traditional sounding thrash with a lot on the edges. Sounds a lot like early 90's Slayer.

Pandemonium-This tune just rocks! Familiar rhythms from the late 80's early 90's thrash movement.

Loaded-Probably my favorite. Very aggressive Slayer sound once again. Should pair these 2 bands on a tour. They'd knock everyone out!

Firelight-One of the most solid sounding tracks. Just plain heavy, but not as fast as others.

Leviathan-Rythms sound like a wall of sound. Very heavy with cool vocal parts.

Overall

Well, I have to admit it. I really rolled my ears in this one. This album is probably the most musically sound album the band has done. The intensity is very much like Slayer as mentioned before. The arrangements are very well done as well. This album really is a must if you like those traditional metal sounds that will knock you over as they come out of the speaker. Thrash fans, definitely check this one out. There will be no regrets, but I didn't have to tell you, did I??

A few notes

'Unholy Trinity' is the second release from Chaos Theory. The sound is in your face as you would already expect. Band members Ernie Albanesius, guitars, Dan Altobelli, vocals & Bass, and Brian Schleper, drums, would definitely have to be known for consistency in songwriting. This album slams as do the others. The music is not for the weak of heart. 'Unholy Trinity' is another album consisting of six tracks.

Track by Track

Darkness Decends-Thrash in the vein of the late 80's movement. Pissed off lyrical content. Good low end.

Left inside denial-Varying tempos. From grind to frenzy in a split second.

Beat you at your own game-Very good groove going on here. Great drum tracks and rhythm combo. Slam-o-rama. Favorite track hands down.

Waiting for the storm-More of the groove thing. This definitely will get the mosh pit rowdy. Light in lyrical length.

The end of sorrow-Consistent in nature with the album. Straight forward aggression.

Wretched Life-Most aggressive track on the album. Faster tempo. Don't headbang to this one, it could do some damage.

Overall

Chaos Theory writes music that commands attention. The tunes are very aggressive in nature, but you already know that from reading the other reviews. They remain pretty consistent from album to album. With the band sharing stages with Overkill, Testament and others, it's no surprise where these guys wanna be. They attack it very well.