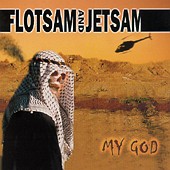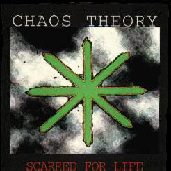 Flotsam and Jetsam-My God

      © 2001 Metal Blade Records

Chaos Theory-Scarred for Life

             © 1996 Chaos Theory, Inc.

A few notes

At a time when bands are returning to their traditional sounds, Flotsam and Jetsam has gone back a bit in time to their faster stuff. The music isn't as fast as the early days like 'Doomsday for the deciever' but retains some of the crunch shown on 'Drift' with a nice dose of polish. These guys are definitely vets now and this album shows why.

Standout Tracks

Dig me up to bury me-Intensity I mentioned earlier. Fast stuff, but has that familiar 'Drift' feel.

Nothing to say-Haunting tune that has cool thrash rhythms. Polished yet dirty. A favorite.

Camera Eye-Rhythms with a lot of punch. Fast tempo. Cool use of vocals.

Frustrate-More heavy stuff. Driving rythms.

I.A.M.H.-Easier going instrumental track that shows another dimension to the band.

Overall

I'm pretty happy with this disc. I really liked the early stuff and was a fan of 'Drift' as well. This disc to me is a mix of both, but leans more towards 'Drift'. The album has it's own identity however that carries it well. If you like heavy music that is well written with a very solid sound, you should really dig this one quite a bit. Don't miss the bonus hidden track on this one. Kind of a cool tune.

A few notes

The bands first album that is starting to get a bit harder to find. This album finds a style in a bit more of the traditional thrash feel. The music really packs a whallop. If you're looking for love ballads, you've got the wrong guys. This band go's for the throat and doesn't let go. The album has six tracks.

Track by Track

More and more-Agressive opening track that has a touch of Maiden to it. Very fast tempo.

I abandon-Great thrashing number. Vocals have some serious bite. Fast tempo that is catchy.

Stalemate-Grinding number. Progresses in tempo to a frenzy.

Kill the system-Attitude track. They all have a lot, but this one get's it across well. Same heavy fast tempo.

Victimized(Primal Desire)-S.O.D. sounding stuff. Very fast tempo. Most aggressive tune on this disc.

Karate Chop-Favorite tune on this disc. Like the humor displayed. Seems to be a fan favorite if you read other reviews.

Overall

This is a good way to get the point across that you play pissed off heavy music. This was where it all started. If you like it heavy, you better grab this disc before it disappears. I'd bet these guys get a mosh pit or two created at the shows. Fun stuff to stage dive by.