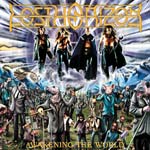 Megadeth-The world needs a hero

              © 2001 Sanctuary Records

Lost Horizon-Awakening the world

                   © 2001 Music for nations

A few notes

'The world needs a hero' is the first for new label Sanctuary Records. The band have brought back a bit more aggressive sound. Not a total return to the early days, but heavier than the recent albums. Also welcomed back to the artwork is Vic Rattlehead. Hey, we missed this guy. Vic is the equivelant of Eddie on the Iron Maiden covers. Needs to be there. The current lineup still features Dave Mustaine and Dave Ellefson as well as Jimmy DeGrasso on drums and Al Pitrelli on guitar. Very solid.

Standout Tracks

The world needs a hero-Very cool beat and vocals make this one absolutely 100% Megadeth. Very different sounding than other stuff, but cool.

Moto Psycho-Another track with cool tempo and vocals. Maybe a bit commercial, but works well.

1000 Times goodbye-Very crunchy. Semi-familiar rhythms. Reminds me a bit of early Metallica style rhythms, but slower. Geez, wonder why, eh? Great solo.

Burning Bridges-Another crunch-fest. Heavy, but not fast tempo. Faster in the mid section though. Ripping solo once again.

Losing my senses-Not really heavy, but has that Mustaine trademark and snarl to it.

Dread and the fugitive mind-Hey, this is familiar. Not only from the greatest hits disc, but remember 'Sweating bullets'?? Very similar in style.

Return to Hangar-New part to 'Hangar 18'. This song rips! Builds into furious tempo like the first one. Fastest song on this disc.

When-Very pissed off track. Various tempo changes make this tune cool. Kind of has some progressive nature. Longest track checking in at over 9 minutes.

Overall

This may not be 'Peace Sells', but this is the heaviest thing the band has done in a while. This should sit well with the hardcore fans that have followed the band for a long time. I think the band has tried to mix it up a bit to cater to old and new fans alike. They have done a pretty good job of it. This will be one of the cooler releases this year. Now go out and get it!

A few notes

Lost Horizon is a band that plays their metal with the same passion as bands like Manowar or Iron Maiden. This band is about as pure as it gets for metal music. The music just sounds very solid and powerful. Formerly known as Highlander and featuring members who later moved on to form Hammerfall. The members of Lost Horizon became very focused and were ready to build a masterpiece that became 'Awakening the world'. The band has some interesting elements weaved together to give us an overall feel of their intent. To remain true to what makes metal what it is.

Standout Tracks

Sworn in the metal wind-Very aggressive track that is reminscent of what Manowar does. Some of the bass lines would make Steve Harris proud!

World though my fateless eyes-Same quick tempo with some great guitar work. Very good vocals.

Perfect Warrior-Very good track that combines melody and heaviness. Reminds me a bit of the melodic power metal that is commanding the European scene at the moment.

Denial of Fate-More melodic stuff with aggressive beats. Cool choruses. Good vocal range on this one.

Welcome back-This tune builds into a good crunchy vibe. Hear a lot of Steve Harris influence here. Solid.

The kingdom of my will-Very long track checking in at just over 9 minutes. Iron Maiden influenced in my opinion. Great track!

Overall

Lost Horizon is really a band with a bright future. They seem to draw from Iron Maiden and Manowar type influences. Hey, if your gonna draw from influences, these 2 bands are as solid as they come. Add these guys to that same heirarchy. This album is solid from start to finish and definitely gives the band something to shout about. The album has been called one of the best debut albums ever and for very good reason. If you like your metal with sensibility and amazing musicianship, don't miss this one. Should be in the running for album of the year honors!