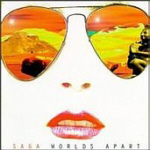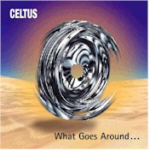 Saga-Worlds Apart

    © 1981 Sony Music

Celtus-What goes around...

      © 2001 Evangeline Records

Decided to dig in the vault and do a review of an early progressive rock gem. Saga unleashed one of their most amazing pieces of work 20 years ago. Doesn't seem that long ago especially since the music really sounds fresh today and stands the test of time.

1. On the loose-First track I ever heard by the band. It really blew my away and was a big single for them.

2. Wind him up-This track was my personal favorite for the overall sound and tightness of the band. Phenomenal songwriting here.

3. Amnesia-Another good song with a memorable chorus. Nice laid back tempo.

4. Framed-Very upbeat number with good mix of keyboards and guitar. Interesting vocal parts.

5. Time's up-Lighter number with melodic choruses and good atmosphere.

6. The interview-Another favorite. Very upbeat number with rich keyboard sound. Very melodic and dynamic.

7. No Regrets(Chapter V)-Very light song with emphasis on the keyboards once again. Vocals handled by Jim Gilmour.

8. Conversations-Groove oriented instrumental. Shows more of the progressive nature the band is known for.

9. No stranger(Chapter VIII)-Starts light and moody, but really picks up and rocks. Probably the most rock sounding track on the album.

Now I know those chapters you see here and there scattered cross Saga's albums mean something and from what I understand, we may eventually figure this whole thing out with help from the band. This album really is a lot of fun to listen to and never really grows old. This is really a classic album and should grace every collection as it is very accessible to most tastes. This one comes highly reommended.

Celtus as some of you may know is the brainchild of former Mama's Boys members Pat and John McManus. While it is not a hard rock or metal record, it still shows without a doubt the songwriting talents of 2 very gifted individuals. The McManus brothers, after the death of their youngest brother Tommy, drummer for Mama's Boys, decided to change directions. After all, Mama's Boys was the 3 brothers collectively and without Tommy it wouldn't be the same. Where they found there self headed is where it all began for them at a very young age, Irish music in a traditional sense. You know, the whistles and pipes. So now you may ask 'Why review it if it is not metal??'  Simple. I get a lot of requests for anything related to these guys and this is very much related. Now this isn't Lord of the dance. Celtus flavors it their way. Lot's of atmosphere and imagination. A track breakdown will give you an idea of what I mean.

1. What goes around-Upbeat tempo with some Middle-Eastern flavor. Pop influences.

2. Breathe-Very atmospheric and catchy choruses. This track flows well with it's more laid back tempo.

3. Angel-Very light acoustic based track. Slight Irish instrumentation in the background to enhance. Good solo that is remiscent of Pink Floyd.

4. Perfection-Great multi-level vocals on this track. Laid back tempo. Kind of relaxing.

5. Jigsaw-Here is an interesting mix. Irish and funk together. Catchy stuff.

6. Changes-More laid back acoustic based music with very good melodic choruses.

7. Touch too much-This one is like a trip down memory lane. Kind of reminds me of something that would have been on the radio in the 80's. More updated sound, but just has that groove. Smooth.

8. Live again-The most Irish heard so far. There has been some here and there, but this seems to be more Irish based.

9. Liberate-This track combines techno influences with Irish sound. Instrumental. Very catchy.

10. Shelter-Acoustic track with a lot of depth. Very well done choruses. Instantly memorable.

11. Hole inside my heart-This has movie soundtrack written all over it. Tons of depth. This one has potential of making some noise.

12. Departure-Piano and flute based track. Sounds emotional. Very light.

Now if you want to kick back, relax and let your mind wander a bit, this is just what the doctor ordered. Celtus music is very well written and performed. It is really amazing to me that these guys have not become platinum selling before now. The potential is there.  If you are all metal with no compromise, this probably isn't for you. If you like to relax and let that neck rest once in a while, this is an excellent way to do it. Highly recommended.