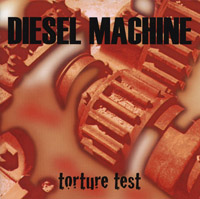 Diesel Machine-Torture Test

             © 2001 SPV Records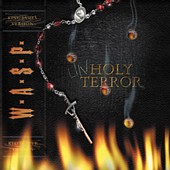 W.A.S.P.-Unholy Terror

      © 2001 Metal-Is Records

Diesel Machine may be new to some. The heavy other project of Halford's Patrick Lachman is making some noise. In description, Diesel Machine could be compared at times to Pantera and others maybe Prong. Add a touch of the modern pissed off edge with a touch their own and you just about have it.

1. Torture Test-The opener is very crunchy like Pantera and Prong mixed. Grinding rhythms and angry vocals get this one started in a dynamic way.

2. Bones and All-More early Prong sounding stuff here. Vocals are more modern than Prong, but the groove is there. Very heavy once again.

3. Dissection-Sounds like more recent Prong. Cool effects back the already grinding rhythms. Very chunky sounding.

4. The Punishment-Pantera-ish style rhythms. Consistent in heaviness with the rest of the album this far.

5. Borrowed time-Darkest sounding tune this far. Heavy atmosphere. Lots of attitude.

6. Rage-Chunky and consistent with the rest of the album.

7. Sick-Like the guitar workings here. Angry stuff.

8. Driven by Pain-Lot's of rhythm section here. Good low end pound. Very thick wall of sound.

9. Black Box-Faster tempo than exhibited so far. Quick rhythms. Hint of more traditional thrash.

10. State of Panic-Like the strange intro. More of the usual heaviness. Dark sound. Kind of Pantera-ish once again.

11. Self-Destruct-Ends the album with a big bang. What you expect with the song title??  Tempo changes from heavy to fast here and there.

This really is a heavy album. No ballad breaks to be found on this one. This band writes it one way to be played one way... loud! If modern sounding heavy stuff is not your bag, this may not be for you. If you do like it pulsating heavy from start to finish, you will find this one very appetizing.

Blackie Lawless without a doubt has to be one of the busiest pople in the business. He really tends to shine when he delves into the political material. Think back to the brilliant 'The Headless Children'. He tends to think, get pissed, and write great music. 'Unholy Terror' is another of those moments in time. With the change in direction a couple of times in the last few years as far as album writing goes, I once again think he has hit his niche.

1. Let it Roar-Maybe a more reminscent of something off of 'Inside the Electric Circus' this one really is straight forward in your face heavy rock n roll.

2. Here to love me-Could've made 'Headless children'. Good aggressive metal W.A.S.P. style.

3. Loco-Motive Man-One of the highlights of the disc. One of those political tunes I mentioned. You'll have to get the album to see what this one is about. Blackie has a rundown of sorts in the liner notes.

4. Unholy Terror-Very atmospheric. 'Headless' style to the maximum. Intro's into next track.

5. Charisma-Definitely my favorite on this album. Continues the atmosphere started on the preceding track. Very symbolic lyric content. All defined in the lyrics of the album.

6. Who slayed Baby Jane?-Traditional W.A.S.P. sound. Straight forward rocker.

7. Euphoria-Another favorite. Instrumental piece with a ton of melody. Shows another side of the bands potential.

8. Raven Heart-More of the traditional sound. Like the depth of the sound. Very full sounding rocker.

9. Evermore-This tune is very remiscent of 'Forever Free' as it should be if you read the liner notes. Get the disc and find out.

10. Wasted white boys-More traditional sounds. The attitude track of this album. Good way to wind it down.

This really is a great album. Writing is top notch, conten will start you thinking and musicianship is where it should be. Blackie and the boys have hit the notch once again. I am a very long time fan of the band and find this album a very worthy addition to any metalheads collection. Highly recommended!