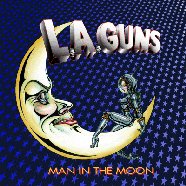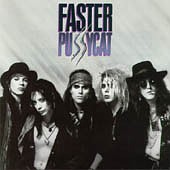 L.A. Guns-Man in the Moon

           © 2001 Spitfire Records

It sure is good to have one of the 80's best artists back with a great new album. The lineup is original with the exception of Muddy who replaces Kelly Nichols in the bass spot. With so many of our favorite artists disappointing us these days with lackluster efforts, how did L.A. Guns do??

1. Man in the moon-Brilliant way to get things started. Classic Guns cruncher here. One of the best.

2. Beautiful-Lots of classic rock influence here. Isn't it amazing how this element has been lost in the shuffle for so long?

3. Good Thing-More of the classic rock thing going here. Got the grit as well that we expect from these guys.

4. Spider's Web-This one has some familiar chord work. Good crunching rocker. Some haunting sound as well.

5. Don't call me crazy-Love these kind of songs by the band. Lot's of thought and emotion. Probably the 'Ballad of Jayne' of this album although totally different in sound.

6. Hypnotized-If this isn't L.A. Guns, I don't know what is. Very reminiscent of the early stuff. Rockin' number.

7. Fast Talkin' Dream Dealer-Back to some classic rock sound. Good heavier bangin' tune. Very catchy choruses. Blazing solo that's kinda short but effective.

8. Out of Sight-Sounds straight outta the 70's. Classic rocker without a doubt even down to the guitar sound. Good groove. Another great solo.

9. Turn it around-Laid back tune that is a bit reminiscent of the 'Hollywood Vampires' era. Good emotion once again. Very solid track.

10. Scream-Finishing the album off with the early L.A. Guns sound. Mid tempo rocker.

It's good to see a band recognize and utilize what made them who they are. This album should agree with most fans of the band from the early days through 'Hollywood Vampires'. It is however not a clone of any of the albums. The album has it's own identity and brings forth well penned tunes with good attitude and should restore some faith in the genre.

Definitely give this one a spin!

One may ask why I review material that maybe most of the fans are already familiar with. Well, it's easy. Every now and then comes a fan who is looking for something unique that maybe todays market doesn't offer. The self titled debut from Faster Pussycat is just that album. The good news as of now is that the band is back together. Let's go back a few years and look at this gem.

1. Don't change that song-Great example of what the band sounds like. Loud and nasty.

2. Bathroom Wall-Trademark tune. One of my favorite tunes by the band. Cool vibe with good humor.

3. No Room for Emotion-More laid back. Exaggerated vocals.

4. Cathouse-Another favorite. Sleaze rock at it's best. Love the chorus on this one.

5. Babylon-Humorous as hell. This song carries a lot of bite. Loved catching this one at the live shows. The intro is classic.

6. Smash Alley-Good groove rocker. Love the bass line in this one. Mid tempo rocker.

7. Shooting you down-kind of has a Hanoi Rocks feel in the music. Good upbeat tune.

8. City has no Heart-Fairly average tune with wierd backing vocals. Upbeat.

9. Ship rolls in-Mid tempo once again. More Hanoi Rocks sounding stuff. 'Two steps' era.

10. Bottle in front of me-Max attitude and humor. Very over the top vocals. Always liked this one a lot. Very cool groove.

Faster Pussycat is one of those bands that I wished would've lasted longer. Glad to hear they are suppose to be back together and touring. This album was very unfamiliar to me when I purchased it. I now know every lyric word for word from listening to it non stop. It was very different and unique at the time it came out and still sounds fresh. The live experience really enhances these tunes. The band is amazing liv and spills over a ton of humor. If you haven't picked this one up, what's wrong with you??

Faster Pussycat-Faster Pussycat

          © 1987 Elektra Entertainment