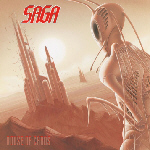 Saga-House of Cards

      © 2001 SPV Records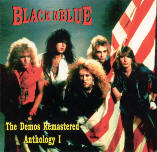 Black 'n Blue-The Demos Remastered-Anthology 1

          © 2001 Krazy Planet

There is really quite a market still out there for one of the greatest 80's acts to ever grace a stage. I get a lot of requests for information on Black 'n Blue as well as the various side projects of the band members. Well, it is my job to keep you informed, so let's look at one of the latest offerings from Jamie's vault. 'The Demos' is exactly that. Demo form of many songs later released on the sudio efforts. Let's run down them song by song.

1. Chains around Heaven-1981 demo. Some noticeable irregularities in the sound. Definite analog source. Stays close to the studio version.

2. I'm the King-Another 1981 demo. Pretty close to the studio once again. Same sound irregularities.

3. The Strong will rock-1982 demo. Different opening and a bit rougher than the studio, but posesses a magic all it's own.

4. Squeeze me-good melodic rocker. Sounds a lot like classic Kiss to me. Unreleased until now. From 1982.

5. Violent Kid-This track rocks and would've fit well with the debut album material. Live version was made available on the live disc from 1998. From 1982

6. Sign in Blood-Hadn't heard this one before now. Once again, much like the debut material. Like the attitude. A rocker. From 1983.

7. Wicked Bitch-One of my favorites from the band. Slightly different guitar here and there from the finished form. From 1983.

8. School of hard knocks-From 1983. Fairly rough, but still sounds decent.

9. Cold Heart-Another unknown. Melodic here, rocks there. Should've made an album like 'Without Love'. From 1983.

10. Hold on to 18-Like the sound of this demo. Has some good bite to it. Some minor differences from studio version. From 1983. One of the best on this.

11. Lifeline-Gritty rocker. Good sound quality on this tune. A bit more punch. From 1983.

12. Autoblast-Live-Recorded from a live radio broadcast. A bit rough, but sounds okay. From 1984.

This disc will really appeal to all of you hardcore Black 'n Blue fans always wanting more. Keep in mind the sound isn't studio. It's all demo style and not touched up. Jamie listens to the fans. You ask for stuff like this and he delivers. Pop this one in and take a trip to the past!

Probably best known for the 'Worlds Apart' disc, Saga delivers up another disc full of progressive style rock that has a flavor that only Saga can put in it. Some fans may not even have realized these guys were still at it. Not only are they still at it 20+ years later, but they are in original lineup! A true rarity these days.

1. God knows-Mid tempo number with great upbeat sound. Good way to get this one started.

2. The Runaway-Reminds me of 'Worlds apart' stuff. More guitar oriented sound.

3. Always there-Probably my favorite of the album. Radio hit written all over it. Great melodic element and choruses.

4. Ashes to Ashes (Chapter 11)-Good imaginative sound. Classic Saga here.

5. Once in a lifetime-Good choruses. Mid tempo to light sound. Very upbeat.

6. Only Human-Lighter moody number.

7. That's how we like it!-Cool progressive element. Laid back tempo. Cool vocals.

8. Watching the clock-Very light piano based instrumental. Very smooth.

9. We'll meet again(Chapter 15)-Classic Saga sound again. Very solid songwriting here. Another favorite.

10. Money Talks-Melodic number with memorable chorus lines. Hey, money always talks, right??

11. House of Cards-Bit more grit on this one. Like the vocal arrangements. Tempo change-ups work well also.

I am a Saga fan from a long time ago. I was pleased with this effort. Some similarities to 'Worlds Apart' which is the album that the band has their other stuff measured up against. This is a solid chapter to the bands ongoing legacy. For fans of melodic music and progressive rock, this one comes recommended.