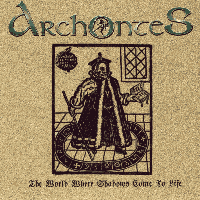 Iron Savior-Dark Assault

         © 2001 Noise Records

Archontes-The World where shadows come to life

                             © 1999 Valiant-MetalAgen

2001 is shaping up to be a great year. The releases I have heard so far have been very strong and 'Dark Assault' from Iron Savior is no exception.

'Dark Assault' is the continuing story of the Iron Savior and the fight for survival. The twist in the story on this album reminds me a bit of 'Battlefield Earth'. A dominent race travels through a gate in space to exterminate man. There is more to it than that, but yo'll just have to get the album for yourself and check it out.

The music is some of the bands best work in my opinion. 'Never say die' starts the album with a lot of intensity. Very solid power metal. 'Seek and Destroy' kicks it up a notch in tempo. Very aggressive track. 'Solar Wings' sustains the intensity and shows some very cool vocals with a great pounding rhythm section. 'I've been to Hell' is one of my favorites. This tune has some good melody mixed with some ferocious guitar attack. Keep in mind that Iron Savior has a 3 guitar attack that really creates a wall of sound. 'Dragon's Rising' changes tempo a bit and brings in some cool elements that make the track very multi-dimensional. 'Predators' is metal at it's best. Got that punch that Accept always had. Guitars remind me a bit of stuff on the 'Restless and wild' album. 'Made of Metal' is one of my favorites as well. The track flows well and the vocals are top notch. 'Firing the guns' returns to the fast tempo shown early on in the album. 'Eye of the World' has some great grinding guitar on it as does 'Back into the light'. Haven't heard rhythms like these in a long time. 'After the War' is absolutely spellbinding. This was absolutely the best way to end the album. The track varies in tempo and has some of the coolest choruses on the album. Piet really shows how well he can handle the vocal duties here. Also on the disc as an added bonus is a cool cover of Judas Priest's 'Delivering the Goods'. This tune is true to the classic with an Iron Savior twist to it.

I really recommend this album to fans of excellent power metal. Iron Savior is in top form both musically and from a songwriting stand point. I was really hooked on this album.It is good for listen after listen. It is available domestically through Noise Records and is mandatory metal!

Archontes may not be familiar to some of you. They are one of the great bands from the Russian scene that is evolving and being distributed through Valiant Music Productions.

Archontes reminds me of the European power metal scene. These guys are really good musicians and can write music as well as anyone. The album opens with 'Opening Incantation' and then launches into the very tight and fast title track 'The World where shadows come to life'. The keyboards are absolutely amazing on this tune not to mention the ultra fast drumming. 'Runaway from Dark' continues the fast pace with great choruses. 'Whisper of Time' is very cool. It has these elements to it that really paint a picture. Very cool sounding authentic feel. 'Fear is the conscience of Villians' is a quick tempo number with some great guitar work and big choruses. 'Mother Russia' really has a cool flare to it. What would be better than a Russian band performing a tune called this.  Very good melodies give the tune an authentic feel. The track is very disciplined and flows extremely well. 'The Rules of Real Life' has some amazing piano work to those ultra quick beats. The melodic element is evident as well. 'Victory of Death' is the final track. Ths track along with some of the others has a Russian flavor to it. It's an element you don't hear that often as one would expect. It really brings a freshness to the album.

This album was an enjoyable listen. I'm sure that a lot of fans of the metal genre didn't know that a scene exists in Russia. This band is very tight and definitely worth checking out. Click the link below to access Valient's website for more info.