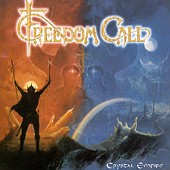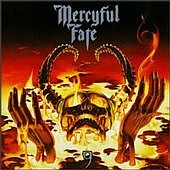 Freedom Call-Crystal Empire

                © 2001 SPV Music

   Mercyful Fate-9

© 1999 Metal Blade Records

Every now and then an album comes along and kicks your teeth in. An album that combines excellent musicianship with very well crafted songwriting. 'Crystal Empire' is one of those albums. Elements of fantasy mixed with heavy arrangements. This album really packs a punch.

The album opens with an intro titled 'Intro' and then propels the listener into 'Freedom Call'. Very good vocals with an even balance of keys, guitars, and fast pounding rhythm section make this tune a bit reminiscent of something you may here from Gamma Ray or Stratovarius. 'Rise up' continues with a fast pace and intensity. 'Farewell' displays that majestic element the melodic power bands of Europe are known for. This tune is very melodic with big choruses. 'Pharao' is a strong tune that has those elements one would expect with the title. Kind of paints a picture. Also majestic sounding is 'Call of fame' that hits in the area of 'Farewell' when it comes to the big sound. 'Heart of the Rainbow' continues the consistency set forth to this point. My favorite track would have to be 'Quest'. This tune is about as perfectly written as it gets. Ferdy Doernberg intros the tune with an awesome piano piece. The tune builds from there with big melodies and enough crunch to make your neck hurt. Absolutely amazing. 'Ocean' is next and is another favorite of mine with it's very large choir style choruses and quick tempo structure. You have to pinch yourself to believe people still write music this well. 'Palace' throws quite a bit of sound around and is a good listen. Those great background vocals are evident here as well. Closing the album is 'The Wanderer'. This tune has a great feel. Almost feels like you are actually absorbed into the experience.

I was not familiar with Freedom Call upon recieving this title. I am a huge fan now. This album has very good music that will command listen after listen. This album will be in the contention for album of the year for 2001. Very highly recommended music that won't disappoint, especially for old Helloween and Gamma Ray fans. Don't miss it!

I have to admit it. I am a fan of Mercyful Fate. Not that that is anything to be embarrased about. It's just interesting how long a person will push there religious beliefs through music. The content may be a bit pompous in my opinion, but the musicianship of this band should not be taken lightly. These guys are very tight and can hang with the best of them.

'9' is the most recent offering from King Diamond and Mercyful Fate and is relentless in its pursuit. 'Last Rites' starts the album aggressive with some great sounding guitar work. 'Church of Saint Anne' is chunky and haunting sounding. It works well with it's progressions. 'Sold my Soul' is metal at its best. Has all of the elements. Love the guitars on this one. Probably my favorite would be 'House on the Hill' for the guitar work once again. Very aggressive tune that will please any fan of metal. Definitely a standout on the disc. Staying heavy as one would expect, 'Burn in Hell' will please with some interesting vocal arrangements. 'The Grave' retains the haunting sound heard on the album. The tune has a slower hard driving groove like maybe something you would hear on an Annihilator album. Taking the pace a bit faster is the furious 'Insane'. Kind of pissed of it is. 'Kiss the Demon' is another haunting tune that develops into many progressions. 'Buried Alive' and '9' close the album out as consistent as it started. '9' is one of the coolest tracks. It's cool to hear this song change as it progresses.

This is a pretty decent effort from the band. I got hooked on it for it's musicianship. The album turns into a jamfest here and there. If you are not into the evil content, this isn't for you. I can personally take or leave it, but dig the music quite a bit. Check it out.