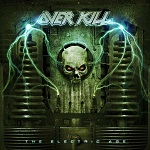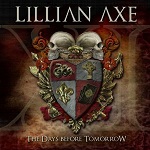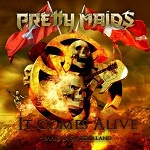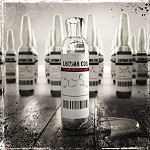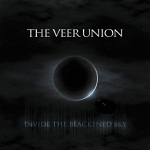 Overkill - The Electric Age   © 2012 Entertainment One Music

Looks like the mighty Overkill is hitting its stride as usual. The new album absolutely shreds, and in an old school kind of way. Anybody who knows me knows my love of this band. Been following then since almost the beginning and really haven't found anything too disappointing in their now lengthy career. This album tends to take off where 'Ironbound' left off.  If you were a fan of that album, you are definitely not gonna want to miss this latest release. As I usually mention, it's very consistent throughout, definitely fits into the classic thrash vein, and definitely comes highly recommended from me. Damn good record!

Lillian Axe - XI: The Days Before Tomorrow   © 2011 CME Records

It's amazing to me how a band can keep rolling and replace vocalists, but at the same time be so unmistakable due to other elements of the band such as guitar sound, structure of song writing, and just the overall tone of the record. This is what sticks out to me with the latest Lillian Axe record. It had those tones in it that I have heard from albums like 'Poetic Justice' or even elements similar to 'Psychoschizophrenia'. The album stands on it's own and really is a good listen. Some may complain that the original band really isn't intact, but if you listen to this honestly, there really is alot to like.

Pretty Maids - It Comes Alive   © 2011 Frontiers Records

I was really excited for this release. Yes, it's live, but this one is special. The Maids are celebrating 3 decades with this release and we get the live material not only on compact disc, but DVD to boot. With as many albums as this band have now, it can be a real task just trying to build a setlist to please all. I think they do a great job on including some of the best stuff from recent albums as well as from a ways back in their catalog. The video portion was a blast to watch and the band sounds amazing still to this day. The only thing that could make this better is a blu-ray as I am into the whole hi-def thing, but glad I have this!

Lacuna Coil - Dark Adrenaline   © 2011 Century Media

Been a good year for releases so far. Lacuna Coil add their latest offering and while it doesn't offer much in the way of surprises, what it does do is gives you a pretty decent listen. There were some minor complaints with 'Shallow Life' and maybe the commercial sound in places. I really took no issue with it myself, but the band seems to have given us more of what they usually offer up on this outing. Decent heavy riffs, great dual vocals, and that dark tone that has been prevalent in other releases. I found the album consistent and believe that most Lacuna Coil fans will be happy with this album.

The Veer Union - Divide the Blackened Sky   © 2012 Rocket Science

Became a fan of The Veer Union after seeing the band open for Hinder a few years back. I liked their energy. With their latest effort, the band continue releasing songs that are modern in sound with a good heavy vibe to it. Their is a fairly catchy element to the music as well. You will probably remember this album and its songs after only an initial listen. I am not always a fan of more modern bands, but every now and then a band comes along and drags me along for the ride. The Veer Union caught my attention and now I go that step further and mention them to you. Check them out as they are pretty good!

© 2012 Heavy Metal Resource