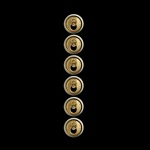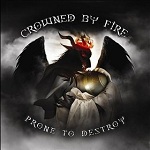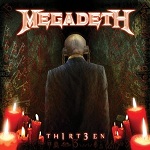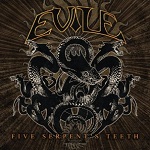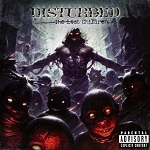 Megadeth - Th1rt3en   © 2011 Roadrunner Records

Back for another great record is long time metallists Megadeth.  There really is a chemistry in this band when you get Ellefson and Mustaine working together again. It's pure magic I tell ya. This album in ways reminds me of the 'So far, So good, So what..." era. It is pretty heavy throughout which is expected. What stood out on this record are the riffs. There is some good soloing as usual, but the riffs are really the core of this record in my opinion. The bass really shines as well throughout this album.  'Never Dead' is the track that exemplifies about every point I make here. Good job once again!

Crowned By Fire - Prone to Destroy   © 2011 Digital Media Records

Solid power metal stuff here. While the band has a fairly doomy sound, their is enough flash in the music to create a balance between the two. The sound of the album sounds more raw which only adds to the intensity of the listen overall. As you listen to the album, you will sense a consistency in quality and tempo. If you are new to this band and want a starting song, do check out 'I am the Crime'. If you like what you hear, you'll more than likely like the rest. I pick that song in particular as it was the one track that jumped out immediately. Love the cymbal usage in that one. Very solid record overall and comes recommended!

Motortrain - Straight Six   © 2011 Slam Bang Music

Part of the fun that is a webzine is the exposure to many different styles of hard rock and metal. Motortrain falls into the Rhino Bucket or Rose Tattoo brand of rock and roll. Blues based dirty sounding rock and roll that just wants to have a good time and not take themselves too seriously. 'Straight Six' is a decent mini release of 6 songs that get this band started off right. I find it really cool that people not only want to play rock with a southern type of feel to it, but that people want to embrace it as well. Times are a bit tough at the moment, so let Motortrain start the party for you. Good fun release!

Evile - Five Serpent's Teeth   © 2011 Earache Records

So you miss your old school Metallica these days. Better get some Evile. This band plays in a similar vein to what Metallica once used to. Comparisons will be drawn to earlier Slayer as well.  Fast and furious riffage, great solo work, and thunderous low end. When it comes to thrash, this band is without a doubt one of my favorites from the new crop of bands out there. The bands debut is definitely my favorite with this album coming in as a solid second. I love a wall of guitar and adrenaline pumping tempos and this album delivers that brilliantly. If you need some old school thrash, this is one not to miss!

Disturbed - The Lost Children   © 2011 Reprise Records

The latest offering from Disturbed is a collection of raritys and B-Sides. You get one new track titled 'Mine' and a slew of pretty solid tracks including a pretty decent cover of Faith No More's 'Midlife Crisis'. When you think of a B-Sides or rare track album, you immediately think of crappy throw away songs or money grab. That is not the case with this collection. It all sounds a bit more like the earlier Disturbed stuff and really forms a great album that would hold up against some of their better albums. The new track 'Mine' is really solid track that showcases how good and creative this band is.  Recommended title for sure!

© 2011 Heavy Metal Resource