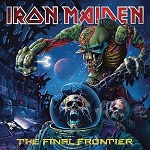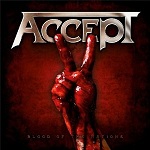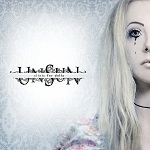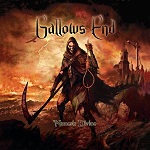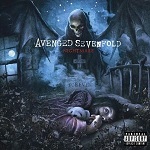 Iron Maiden - The Final Frontier   © 2010 Sony Music

What else can really be said about this band? My personal favorite from way back in the early 80's. It's amazing to see this band still belting out great music from their long time winning formula. This album to me is probably the bands best since 'Brave New World'. What is surprising is the direction this album takes right from the beginning. The lead in track 'Satellite 15' and then into the title track lets you know this album is gonna be really cool and something to enjoy for many listens to come. I may be biased being a huge fan of the band, but I found this album to be consistent and would highly recommend it to everyone!

Accept - Blood of the Nations   © 2010 Nuclear Blast Records  

This is something I really didn't expect to happen. An Accept reunion. Enter Mark Tornillo. I was a TT Quick fan from way back in the 'Metal of Honor' days. I thought he always had hints of Udo in his voice, but can't say I had much hope in what would be a great decision on the bands part in putting him in front of the band. This album is an absolute stunner in my opinion. That classical power metal sound is still there and Tornillo fits in so well with the band, you can't help but be excited about this reunion, and this album in particular. Rock solid headbanging stuff from one of my classic metal favorites. Excellent!

Unsun - Clinic for Dolls   © 2010 Eagle Records

Second album from this Polish female fronted act. I became a really big fan of the bands debut and got really excited to hear they were working on their second release. So the question would be, how did they do? Well, pretty dang good actually. This album is a natural progression of the first album. You can tell it's the same band due to the sound and the vocals. There is some cool growth shown with this album. Consistency is here as was shown with the first album. It all sounds fresh and shows that this band has confidence and artistic creativity. Definitely a fan of this band and their approach. Good stuff!

Gallows End - Nemesis Divine   © 2010 Farvahar Records

Another metal offering from Sweden. There seems to be some really good things coming from that part of the world and it offers alot of variety to the scene. Gallows End would fit into a more traditional metal sounding scene. The quality of the music on 'Nemesis Divine' is quite good and has you thinking bands like maybe Iron Maiden, Manowar, or other metal bands such as that. The finale on this album definitely sounds Maiden-esque in the way it is structured. Even with these influences, this band sounds fresh and puts a much needed kick into the scene from a traditional sensibility. Definitely keep an eye on them!

Avenged Sevenfold - Nightmare   © 2010 Warner Bros. Records

I absolutely love this album. The band had to overcome the adversity of losing their drummer 'The Rev'. This album I guess you could say is a bit of a healing process for the band, and it is a masterpiece in my opinion. I really like where the band is heading musically. They always seem to maintain their core sound while branching out in a variety of different directions. Case in point is the aggressive, yet almost mainstream approach of the title track and then the more haunting and thought provoking track 'Fiction', This band is really hitting on all cylinders. Good job guys! At this point I have all the confidence in the world for you.

© 2011 Heavy Metal Resource