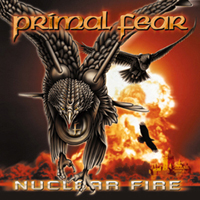 Primal Fear-Nuclear Fire

   © 2001 Nuclear Blast Records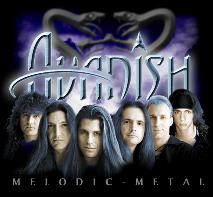 Avanish

© 2000 Avanish Music

I know there are a lot of fans out their who miss Judas Priest as they once were. Primal Fear is a very high quality substitute. Don't view them as a clone however, these guys have a personality all their own.

Ralf Scheepers and Mat Sinner and the larger names in the band, but the band as a whole is very solid. Probably one of the best Metal bands coming out of Europe today. Tracks like 'Angel in Black' are heavy, aggressive and Judas Priest in nature. 'Kiss of Death' is heavy, and in your face. Very good sound. One of my favorites is 'Back from Hell'. Scheepers belts it out like a man possessed. The rest of the band shows amazing intensity. 'Now or Never' is very solid and a bit moody. Another favorite. 'Fight the fire' matches the intensity of the album well. 'Bleed for me' is lighter in flavor, but shows another side of the band. Don't take that as light though, just lighter than the rest. It does have a power all it's own. 'Nuclear Fire' definitely sounds like Euro Metal. That power metal shines on this one. 'Fire on the Horizon' really gets down to business. Great choruses on this one. 'Living for Metal' is a new rock anthem for a new millenium.

One thing is very apparent on this album. It is very consistent. Primal Fear really has their chops down. Tight band and very good songwriting. If you are not familiar with this band, definitely check them out. If you are familiar, you already know what I am talking about. This album is some of their best work to date and comes very highly recommended!

Avanish is a very good band that I have had the opportunity to converse with a bit. I really hadn't heard their music before, but was very curious. I was sent their 4 track promo and was very pleased with what I heard.

'Gods of Destiny' is a great track with cool changing tempos. The band seems to have a great chemistry for writing music. The tune is fast and furious at times and then slower but is powerful nonetheless. 'Help Yourself' is another helping of that European style power metal. Lots of energy and finesse. 'Father's Eyes' is a chunky number with some tempo changes here and there. Pretty consistent with what's been heard so far. 'Dragon's Paradise' is probably my favorite of the four tracks. Like the structure of this tune.

Avanish reminds me of bands like Helloween or Heaven's Gate. Jorg, the lead vocalist really brings an identity with his vocals. I like the way he presents himself on the recordings. The band is tight and weave together well. If these tunes are any indication of what Avanish will bring to the metal scene, we are all in for a treat and the band is in for a very bright future. Stay tuned to the Heavy Metal Resource for more on these guys.