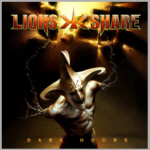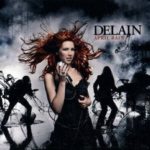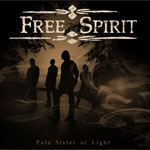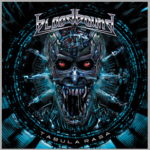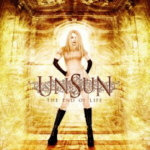 Lions Share - Dark Hours   © 2009 Blistering Records

There are so many bands out there, that it can quite honestly be very difficult to keep track of everyone. Lions Share to me is a great traditional sounding metal act that I had seen mentioned in press releases and had heard about, but it wasn't until this latest album that I took the opportunity to see what they were all about. This is a solid record. There were times I was thinking classic Dio, and other times maybe someone like classic Metal Church. The band is heavy by nature and the listen is quite consistent and enjoyable in my opinion. They have been on my radar for quite awhile, but I'm glad I finally reeled this band in. Solid!

Delain - April Rain   © 2009 Roadrunner Records (Netherlands)

To say I like this band is an understatement. I stumbled on to this band through Amazon.com under related sounds while I was looking at some Within Temptation albums. The connection is Martijn Westerholt, Robert's brother and also a founding member of Within Temptation. This band is very melodic with the heavy rhythms as some of these style of bands have. I think this band is slightly more mainstream and that is in no way an insult. This is very solid stuff. I am going backwards as of the time I am writing this review, I have yet to hear the bands debut. If this is any indication, I am in for a very big treat. Highly recommended!

Free Spirit - Pale Sister of Light    © 2008 Carpel Music Oy

There is alot of heavy stuff that gets alot of attention when it comes to Finland and its music scene. It is amazing to me that there is such a variety of great music coming from that country. Free Spirit is a good example. Finland showcases alot of very heavy music, but then we get this band that is very melodic and pure in its hard rock form. The band never gets really heavy, but does have a good edgy sound on some tracks, while others are very memorable and melodic or light in nature. This band provides very good balance to an already amazing scene from that part of the world. This band should be getting much more attention!

Bloodbound - Tabula Rasa   © 2009 Blistering Records

I haven't taken a look at anything from this band since the brilliant debut album a few years back. Upon taking a listen to the band's latest album, one thing is for sure, they are very consistent. The heavy nature of the debut is evident once again with this release. The band has an intense tempo without ever losing the necessary melodic substance that makes them great. The artwork is always kind of cool as well in my opinion. It really is nice to see the scene in decent shape and it's bands like Bloodbound that help accomplish this. If you are looking for a very metallic album with some great melody as well, it's hard not to recommend this band!

Unsun - The End Of Life   © 2008 Century Media

Fans of the band Vader might be familiar with this particular band as it features Maurycy "Mauser" Stefanowicz on guitars. This band is female fronted and in my opinion has very catchy music. It is heavy, but due to Aya's melodic vocals it actually becomes very accessible to a wide variety of fans. The guitar work has that tuned down hard driving sound while there is alot of atmosphere riding above it. I am absolutely hooked on this album and really hope that there is more from them in the future. This style of music could become a trend if played out right in the markets. Definitely check out the links below to get a feel of what I'm talking about.

© 2009 Heavy Metal Resource