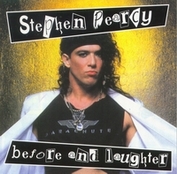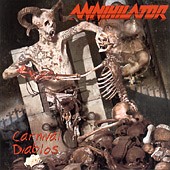 Annihilator-Carnival Diablos

                 © 2000 Metal-Is

In the recent years Annihilator has grown into being a favorite band of mine. The band has a long history now and a very impressive catalog of albums. 'Carnival Diablos' is the latest addition.

New to this album and the band is former Overkill shredder Joe Comeau. Didn't even know the guy could sing. He sigs in a variety of styles and is equally impressive in all. The album opener 'Denied' displays the winning Annhilator formula that us fans have grown to love. Very heavy with the same attitude one would expect. 'The Perfect Virus' is a slammer with varying tempos. 'Battered'  doesn't stray a whole lot from the very obvious heavy direction the album is on. Very cool rhythms on this one. 'Carnival Diablos' is a gem. Melodic, yet in your face. Comeau shows a different sound to his vocals on this one. Very smooth. I couldn't believe my ears listening to 'Shallow Grave'. If one didn't know better, you would think you were listening to early AC/DC with an updated sound. Comeau does a great Bon Scott impersonation on this one. If it goes to radio, this tune should be big. Speaking of vocal styles, 'Time Bomb' showcases Comeau pulling off a Halford style in areas. This band could not be tighter than with this lineup. Jeff Waters is absolutely amazing throughout the entire album as well. 'The Rush' gets back to the bands familiar sound. 'Insomniac' definitely has the bands trademark sound of the past. 'Liquid Oval' is an instrumental piece that is lighter than most tunes on the album, but very well arranged. This is why I like this band so well. The diversity Jeff Waters brings to the songwriting is incredible. This tune is a favorite. 'Epic of War' gets in your face quick and commands your attention. Kind of in an older Slayer vein. Speaking of older Slayer, 'Hunter Killer' is the most intense tune on the disc and kicks into the style Slayer was in on 'Seasons in the Abyss'. Very fast and furious. When I mention Waters' playing, this tune is a great example. He is absolutely incredible.  Let the tune play and then wait a minute for the hidden track. This final track is hilarious. That's all I will say about it, you'll have to buy the album.

This album is so damn cool, it makes my pick of the month for Feb. 2001. It will be a strong contender for the album of the year as well. Don't miss this one, take my word for it.

Stephen Pearcy-Before and Laughter

                   © 2000 Top Fuel Records

Being a fan of Ratt from way back, I found this album very cool. Odds and ends from Pearcy's career including very early demos and live stuff from Mickey Ratt.

Pearcy has been relatively busy since his departure from Ratt recently. Hated to see him go. That unique vocal style is pretty tough to replace. On the high note, he is still churning out music.  This disc has stuff from Arcade as well as Ratt and stuff that was heard on the Vicious Delite disc. 'All shook up' is a tune in the vocal style of 'Lovin' you's a dirty job'. Very cool groove in the rhythms too. 'Railbreak' caught my attention as well. Straight ahead rocker. Like the grinding guitar. 'U Got It' is the ep vesion from 1995. Remember 'Mother Blues'??  It's here in original version. 'Round and Round' is the original version from 1983. Sound is a bit rough, but it's cool to hear it. 'Bitter w/ the sweet' is a favorite tune on the album. 'Cry in time' features Jake E. Lee, Matt Thorn and David Alford. It goes back to 1982. This is what I am talking about. I love albums like this that give you stuff that may have never been released ever. 'Out of the cellar' is the live track with Mickey Ratt I mentioned earlier. Sound is a bit rough, but this one goes back to 1978 and is live. 'All night long' has a great groove to it and features Fred from Cinderella as does a few others. One of my favorite Arcade tacks, 'Nothin' to lose' is here in original form. 'Tell the World' sounds cool in it's original form. 'Dizzy' is kind of a grinder and was written in 1996. I dig this one too. Going back to the old days is 'Dr. Rock'. 1980 was the year. This album really has a lot to offer.

It's tough to keep a review from being a novel when it offers as much as 'Before and Laughter' does. Ratt fans should get this one as it is mandatory. Most 80's metal fans will dig this one. The album states 'Part I'. Let's hope Stephen dishes up a part two. Brings back all of those great memories!