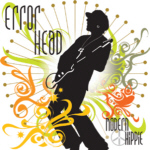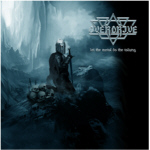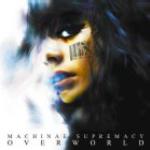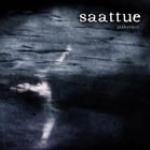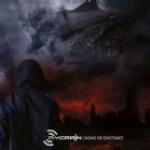 Saattue - Jäähyvästi   © 2008 Spinefarm Records

Melodic Death Metallers Saattue offer up their latest platter of gloomy goodness with 'Jäähyvästi'. Now I say gloomy goodness, but quite honestly, I'm not sure what they are saying as the band sings in their native Finnish. The music while not everything agrees with me due to some of the vocals, is actually really decent in places. If you are not a fan of Death Metal, this may not be for you, but with that melodic part of the genre it gets quite interesting at times. The album contains 7 tracks and over half had some appeal to my taste.  If you like it with dark tones and heavy chugging all with a melodic spin, this might suit you.

Availability: Now   Rating: 7/10   Genre: Melodic Death Metal   Website: Saattue Official
Machinae Supremacy - Overworld   © 2008 Spinefarm Records

Now you have to know I really like this band... alot. Many fans do as well. Last time we talked about them we mentioned that they had moved alot of music through filesharing before the band actually had a label. This trend continues to this day. The bands latest is typical of what they did on the first release, but also sees the band grow as well. The music has a very heavy edge to it such as other Spinefarm labelmates such as Entwine, but the band has electronic elements that makes them differ. This album once again is a winner in my opinion. I would love to see this band get much more exposure here domestically. Good stuff!

Errorhead - Modern Hippie   © 2008 Lion Music

Ever since I heard the name Marcus Deml on the Kingdom Come stuff, I made it a point to follow what he does. He is definitely a session type player that actually does do some of his own stuff here and there. Errorhead is one of those things. This album really got my attention. This is like a throwback to the 60's hippie music with modern technology. What makes it all better is the fact that his vocals are pretty decent and at times reminds me of Glenn Hughes. The music is part instrumental and part vocalized and has a cool funky edge in places. Definitely sounded fresh to me and I definitely recommend this title!

Mygrain - Signs of Existence   © 2008 Spinefarm Records

Another of Spinefarm's latest offerings, Mygrain hits pretty heavy with a bit of a melodic sound here and there. The band mixes styles such as American modern mixed with Melodic Death and the such. Without pigeonholing this band, just know they are heavy with some pretty cool riffs here and there. Vocals are a bit of a mix of abrasive and just powerful. The tempo of the music is in alot of cases a bit faster, but there are moments where things slow a bit and let that melodic side slip through a little. All in all the album is pretty well executed and will appeal more to fans who like their Metal very heavy with a modern edge.

Availability: Now   Rating: 7.5/10   Genre: Modern/Death Metal   Website: Mygrain Official
Overdrive - Let The Metal Do The Talking   © 2008 Lion Music

Here is a band you either haven't heard for a very long time or not at all.  The band has been absent for about 24 years now. The music is traditional Metal obviously due to that era. The band had the task of trying to sound fresh, but not abandon their sound. I think they managed to do this well.  What may bring this to familiarity is Janne Stark. He is one of the original members but was also known in Locomotive Breath and Mountain of Power. The album is very cool, especially for those of you who have been starved of good old school metal. For old fans, the band do have a new lead singer in Per "PerilOz" Karlsson. Very good metal.

Availability: Now   Rating: 7.5/10   Genre: Traditional Metal   Website: Overdrive Official
© 2008 Heavy Metal Resource