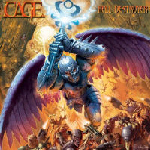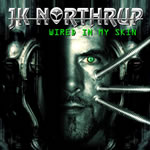 Cage

'Hell Destroyer'

© 2007 DA Records

JK Northrup

'Wired In My Skin'

© 2007 Alien Records



Reviewed by Dave Palmer

Metal has definitely seen alot of changes through the years. Everything tends to get classified. Looking back to the good old days of heavy metal, it was either heavy or it wasn't. With so many different things going on with this genre, especially domestically, traditional power metal type stuff is a bit harder to find than it used to be.  Cage is a band that is carrying the torch of traditional metal on our shores. This stuff is really good, really heavy, and just what you have been missing for the large part of quite a few years now. The band took the last 3 years to write their latest effort and it seems that the fans love this record which is pretty typical. The album is written in very cool fashion. It's conceptual in nature and has some narration in areas to add to the storyline flow. The music is very heavy, but in a traditional sense as mentioned before. I like the subject material of 'Hell Destroyer'. Between the bands natural ferocious delivery of the music through the story of Revelations and the ensuing battle that occurs, this is really good stuff that tops the bands previous effort 'Darker Than Black'. That is something that the band has done successfully with each release. Kicking things up a notch and meeting if not exceeding expectations of the fans. I like an album where you don't necessarily have to pick out favorite tunes and can just look at the album as a whole. This record is one of those. A complete listen that paints a very interesting picture. The metal music will keep fans of heavier era Judas Priest and bands such as that very happy. It will be interesting to see how the band follow this album up. They seem to be up to the challenge with each release and I really don't doubt they will be able to top this one next time they release. Very good traditional power metal stuff!

Overall

Definitely top of the genre type stuff once again. Power metal with frenzied drum beats and shredding guitar mixed with some very interesting subject material to form an amazing conceptual album that will probably top some lists this year for best of the year. Detail was paid attention to in every area from music, to artwork, to detail in storyline. It took 3 years to finish and definitely shows through in the end result. Recommended!

Questions or Comments? Email us by clicking
here
.
Reviewed by Dave Palmer

JK Northrup has a pretty decent resume that dates back to 1982 and his stint with Billy Thorpe that also featured drummer Frankie Banali of Quiet Riot and bassist Bruce Turgon who went on later to work with most notably Foreigner. Northrup has worked quite a bit with Terry Ilous of XYZ through the years as well. Northrup released his album 'Wired in my Skin' back in March via Alien Records. What I find impressive about his latest record is not only his songwriting and playing, but the plethora of great vocalists that are on board to lend a hand to his music. For instance, we mentioned Terry Ilous and his work in the past. Terry is on board as is former  Danger Danger vocalist Ted Poley and Kelly Keeling from Baton Rouge. Also, you get Johnny Edwards who sang for Foreigner and David Zaragoza who is new to the scene for the most part. Also featured are drummers Glenn Hicks and DanZoid. The music is quite good and the vocalists really put their stamp on each song. With that being said, obviously the sound of the album is going to be entrenched in the late 80's with a bit more of an updated sound. I think the album is pretty consistent overall and the different vocalists definitely add variety to the listen. As far as my personal favorites on this album, I would include the title track 'Wired in my Skin', 'The Road', 'Perfect Imperfection', 'Cemented Eyes', 'Grind Me Down', and 'If I Were James Taylor'. The instrumental track 'Metamorphosis' is really cool as well. The album should appeal to hard rock and AOR fans with only one track even hinting modern. 'Cemented Eyes' is that track, but I wouldn't consider it the odd one out. The same quality is evident here and the album comes across pretty uniform. It's been a good career to this point and this should continue the trend for a long time to come.

Overall

Pretty solid effort from this great guitarist and songwriter. The album sports some great guest musicians as mentioned above. It's nice to see someone offer up hard rock the old school way. lot's of melody, but with a fair amount of guitar drive make this an album that is worth checking out more than just an initial listen. Good stuff from a bunch of great musicians.

Questions or Comments? Email us by clicking
here
.