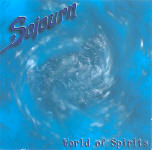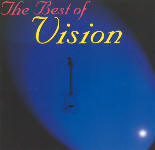 Sojourn-World of Spirits

    © 2001 Song Haus Music

Vision-The Best of

   © 2000 Lion Music

Been a while since we heard from Sojourn. The band has returned with their newest offering 'World of Spirits'.  I had actually heard the demos of this album early on in 2000 and was pretty impressed. Now the official release is here.

Released by bass player Dane Spencer's own label Song Haus music which was also responsible for the amazing reissue of 'Vices' by Kick Axe via the Rewind records division, the album sounds good and is presented well.  Some of the thoughts I had upon intial listening was the Deep Purple influence in tracks like 'Losing track of time' which is also a favorite of mine from the album. Another stand out is 'World of Spirits'. With it's dark and moody elements, this track really is my favorite on the disc. If you want a good groove, check out 'One more nail in the coffin'. Very catchy beat on this tune. Tracks like 'Stand Up' display very good choruses and melodies.

One thing is for sure. This album will appeal to both classic rockers as well as hard rockers.  The band sounds tight and the songwriting is very consistent. This is a good way to start 2001 off on a positive note for the genre.

How about a compilation from Vision featuring one of the busiest guitarists in the business in Lars Eric Mattsson. The album is a collection of tracks from 3 previous Vision albums.

Not being familiar with the band, I was definitely curious knowing that Mattsson was involved. The music is definitely melodic in nature and pretty good. 'Round 'n' Round' is a good example of what I am talking about. It's kind of hard to talk about standout tracks when you are talking about a best of compilation as these tracks really should be the top tunes, right?? Well, guess I'll point out some of the tracks I feel are the best of the best. Already mentioned 'Round 'n' Round'. 'Sail Away' is another good example. 'Open up your heart' is well crafted and instantly memorable. I guess one could summarize that Vision's songwriting is very consistent. That is the most common feeling I had listening to this album. Not a bad song on the disc.

If you are looking at buying one disc that would give you a great overview of Vision, this is definitely the one. The album is very slow to mid tempo in nature and will appeal to fans of AOR. I think you'll dig this one.