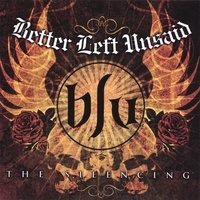 Kamelot

'Ghost Opera'

© 2007 Steamhammer Records

Better Left Unsaid

'The Silencing'

© 2007 Better Left Unsaid

Reviewed by Dave Palmer

After the amazing previous album 'The Black Halo', it remained to be seen just how close in quality the band could follow with their latest release. 'Ghost Opera' is definitely an ambitious release. To compare it to 'The Black Halo' might be difficult. In my eyes I like the previous album slightly better, but keep in mind the slightly better is just that. The album opens up with some of the strongest music of the album. The intro 'Solitaire' really sets a mood and then blends into the rocker 'Rule the World'. 'Ghost Opera', the track, is typical of what you would expect from Kamelot. Fair amounts of melody with big composition sound and raging guitars. When you reach the track 'The Human Stain' which is also one of my favorites, you sense the confidence the band has going into this release. It is obvious that Kamelot is more of a veteran act at this point and one of the more strong acts on the market currently. 'Blücher' is an interesting track. Plenty of intensity with some occasional synthesized voice overs. Another favorite of mine is 'Love you to Death'. I really like the style of this song. The duet vocal work of Khan and Amanda Sommerville put a very nice touch on this track. At the point of the tracks 'Up Thru the Ashes ' and 'Mourning Star', I felt the album dipped a bit. Only slightly as both are decent tracks. Just a minor note on that. The track 'Anthem' is amazing. Definitely the lightest track of the album and has an almost epic feel due to some of the ambience that is created in the background through choir vocals and orchestration. Very full and rich, and obviously well thought out. 'EdenEcho' brings the riffing rhythm work back but also has some very cool keyboard work. The album version I have has a bonus track titled 'The Pendulous Fall'. This final track is every bit as good as the rest of the stuff on this album. The album overall is up to Kamelot's usual high quality.

Overall

I really like this band alot. I have been listening to them very regular since Khan joined the band on vocals. He had come from the Norwegian band Conception which I was a pretty big fan of.  Kamelot has really become something special in my book. One of the better and more consistent bands on the market. 'Ghost Opera' once again is a very solid effort and should please most traditional or progressive metal fans!

Questions or Comments? Email us by clicking
here
.
Reviewed by Dave Palmer

Can't say I had ever heard Better Left Unsaid until 'The Silencing', but with the bands intense sound and musicianship, you go away remembering these guys with no doubt. It is important to note that this release is independent. The band financed the album and quite honestly, this band is better then alot of the hardcore stuff that is more mainstream. Why do I think they sound better? Well, they are intense and heavy, yet make sense at the same time which I feel is important. Rather then pit this band against other more modern hardcore acts, I like to compare more to bands such as later Testament or even Machine Head. Vocally, this band is much better then some of the hardcore crap I have heard. I need to be able to understand what is happening here and with rare exception do not get into unintelligible screaming vocals or the cookie monster crowd. I like it full throttle ahead with a bit of abrasive feel to the vocals. Better Left Unsaid meet this perfectly. 'The Silencing' is a bit short with 7 total tracks and a running time of around 25 minutes. What you get here is definite quality if you dig this kind of metal. The album opens with the track 'Never Again' and at this point you realize the potential this band has. The song has heavy vocal work with some very cool melodic vocals in the chorus area. 'Repletion' is consistent as is much of the rest of the album. 'Sweets' is a track that musically reminds me of something off of Testament's 'Low' album. Good grinding sound in the guitars. Overall the album is very consistent in terms of sound and quality. This should be a very good jumping off point for this Modesto based band. Labels should take notice as there is a scene out there that this will fit into and they sound better then alot of the bands that are already there.

Overall

Very heavy thrash style band that has some modern elements to them. I think they get abrasive vocally, but sound better then alot of the more popular bands in this genre. The music is very consistent in terms of quality and sound. If you like it fast, intense while taking no prisoners, then check out this band!

Questions or Comments? Email us by clicking
here
.