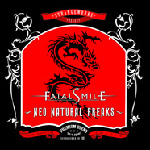 Ra

'Raw'

© 2006 Cement Shoes Records

Fatal Smile

'Neo Natural Freaks'

© 2007 Locomotive Music

Reviewed by Dave Palmer

Here is a band I'm always rooting for. Ra has been around for a few years now. The band also has PJ Harvey from Trixter if you remember them from back in the day. This band is melodic and write some great ear friendly rock tracks. This band in my opinion is one of the better modern acts out there due to their ability to write great songs. That is really what it is all about in my opinion anyway. This particular album is a live recording and with that may only appeal to a certain audience who has a taste for that type of thing. I personally like live stuff, but know people who don't. If you do like it, then read on. The thing that I look at with live material is the quality of the show and how well the band pulls the music off live. This band is keeps me particularly intrigued due to the great vocal work. Can it be repeated live? Well... absolutely. The band sound very good live. I would like to be able to check out the DVD companion to this show to check the band out from a visual standpoint, but they do come across very well in the CD recording. The music selection is decent, no real complaints here. As a bonus, there is a added studio track titled 'Don't Turn Away'. This tracks is consistent with what you expect from Ra. Good melody here with a bit of a bite. After hearing this release, I am eagerly anticipating the next studio album from this band. Would I recommend this live album? Sure.. if you like live stuff. The band is solid as are the songs. It's all about taste.

Overall

A live release from a pretty good modern based band. The track selection is good and the quality of the show is very good. I also thought the added studio track was good too. This is what I hope is a good go between album as we wait for the next studio effort. It showcases the band in the Raw and it's pretty cool.

Questions or Comments/ Email us by clicking
here
.
Reviewed by Dave Palmer

We have been following this band for awhile now. Things have gotten progressively better with each album in terms of exposure and opportunity. The band has been making their mark in the overseas market, but now have the opportunity with their latest release 'Neo Natural Freaks' in the domestic scene. The album has just been released via Locomotive Records stateside. This latest release builds on the bands momentum. The music is hard driving yet catchy. There is a melodic sensibility to it. The band have put something together that can make them proud. It has drawn the attention to them to the point of getting show dates with bands such as W.A.S.P. on their current tour. I believe there is something for everyone here. Well, almost anyway. This album rocks out start to finish. If you are looking for the ballad type stuff, you are not going to find it here. I categorize this album into two types of sounds. First is the dark sound. Tracks like 'Bleeding Kiss', 'Quiet Chaos', and 'Practice what you Preach' are examples of a more serious sound. For the catchy side of things I would include 'Neo Natural Freaks', 'Crash and Burn' which is probably my favorite of this album, 'Learn, Love, Hate', and 'Common People' show the fun rocking side of this band. These two types of sounds offer good balance on the album. There is a good even feel to the music and it's all very decent quality stuff. If you like your hard rock well done with some rock attitude, this is very cool!

Overall

A release that continues to show good growth from the band. People are figuring out what we have known for awhile... that this is a very good band. The music they create from release to release keeps getting better each time. I like this release and the feel that it has. You can pop it in the deck and enjoy what is on it without jumping tracks. Solid stuff!

Questions or Comments? Email us by clicking
here
.