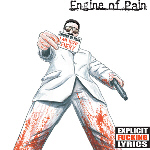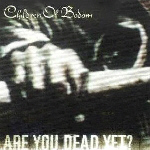 Children of Bodom

'Are You Dead Yet?'

© 2006 Spinefarm Records

Engine of Pain

'I Am Your Enemy'

© 2007 Lion Music



Reviewed by Dave Palmer

Here is a band that you would say came out of left field for the Lion music roster. Not saying that's a bad thing either. Lion Music has been branching out in a variety of different ways with metal. If you looked at their roster about 6-7 years ago it would look quite different overall in terms of types of bands then it does today. Engine of Pain is probably one of the heaviest and most modern. They would be the band that would be the most likely to fit into the domestic scene with all of the hardcore acts. I consider them however a bit more of a thrash act with a modern edge. The band hails from The Netherlands and recorded their first demo back in 2004. The band also played Wacken in 2004 which I consider to be a pretty big deal as well. This brings us to the bands first full length album and the subject of this review. We obviously know who this will appeal to as mentioned. You may get a traditional fan or two such as myself that digs it, but it is heavy stuff with a bit more abrasive vocals. The music is very consistent in terms of intensity and style as well as sound. It's a pretty good bet that if you like the way it gets started off, you'll like the rest of the listen. As far as favorites, I pretty much like the album as a whole. This is due to that consistency I mentioned. I still like a good thrashing from time to time and that's what you'll get from this album. No love ballads here. It's all about going for the throat.

Overall

A pretty decent heavy album from this Lion Music artist. I really mean heavy too. Lots of riffage here. To me this is a modern sounding thrash album. Modern in the vocals, but thrash in the music. It is very consistent. If you like some you will probably like all. It's nice to see even another different sound coming from Lion Music as they reach out for different sounds. Very heavy and cool!

Questions or Comments? Email us by clicking
here
.
Reviewed by Dave Palmer

I have to tell you, I really like this band. I am not usually a big fan of abrasive vocal styling's, but this band does everything right. I'll probably sound like a broken record here from other reviews, but that's okay. Gets the point across. Anyway, so why would I like a band of this caliber and not like alot of the hardcore scene? These guys have a certain amount of flash to them that brings a slight traditional feel to the intensity. To me it has to be a bit familiar. The adrenalin pumping guitar work and double bass beats are awesome. The hardcore scene is all about intensity, but I feel things get a bit lost along the way with too much intensity. It can be heavy and still have a slight finesse to it. I don't want it so heavy that it doesn't have those moments that stand out. This is what Children of Bodom consistently offers with each release. Knowing this you might ask what makes this release special. It's without a doubt Children of Bodom. The band doesn't try to mix up their already winning recipe for success. They dig back into the goody bag and drag out what works. Do I have favorites on the album? Sure. I would probably include the opener 'Living Dead Beat'. I love the guitar work in 'If You Want Peace...Prepare For War'. The driving crunch of 'Punch Me I Bleed' works very well too. 'In Your Face' is one of my album favorites. That track has some very cool rhythm work as well. I like 'Bastards of Bodom' due to the Bass work. 'Trashed, Lost, & Strungout' has that classic Bodom feel to it. Can't go wrong with that. How could you go wrong with a Ramones cover? We get 'Somebody Put Something In My Drink'. It's a cool track from the Ramone's 1986 release 'Animal Boy'. All in all a very good release by the Bodoms.

Overall

I may be a bit biased, but I really like this band and have for a long time. They always put that touch on a record that makes you wanna go back for more. It's definitely more for a crowd that likes it fast and heavy, but the flash the music has could bring in more traditional metal fans as well. Very good stuff!

Questions or Comments? Email us by clicking
here
.