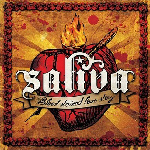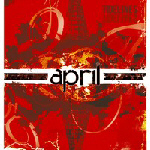 Saliva

'Blood Stained Love Story'

© 2007 Island/Def Jam Music Group

April

'Tidelines'

© 2007 Spinefarm Records

Reviewed by Dave Palmer

Saliva is one of those bands that I feel have grown alot through their career. They were pretty good early on, definitely good enough to get inked to a deal. I think the quality of what they are doing has gotten quite good. The latest release just out exemplifies this fact in my opinion. The band have set their sights forward without losing the vision of what was the past. You can really see this in the music on such tracks as 'King of the Stereo' which has a bit of the 'Click click Boom' feel. There are some very good rock moments that are a bit more straight up such as 'Ladies and Gentleman', 'Broken Sunday', or even 'One More Chance'. There is a mix of good melodic stuff as well such as 'Never Gonna Change', 'Going Under' and maybe even 'Here With You' which is one of my album favorites. Probably my least favorite track would be 'Twister' which tends to be the most experimental on the album. Not really my cup of tea. I really do like just about everything else on the album. These days you have to find a way to adapt to an ever changing music scene. What worked yesterday doesn't necessarily do much for you today. I think Saliva has been able to keep themselves current due to the fact that they aren't afraid to evolve. If you go back to where their successes started and follow each album through to this new one, you will see a pattern of adapting and staying strong. I commend the band on this and hope this trend continues in the future.

Overall

I like this album alot. For me, it is one of the bands best. There is a nice mix of sounds here that give something for everyone. The band continues to evolve and keep themselves important to an evolving and changing scene. It is all about good songs and always has been. It is clear to me that Saliva understands this. Good album!

Questions or Comments? Email us by clicking
here
.
Reviewed by Dave Palmer

April is a new artist that has inked a deal with the Spinefarm label out of Finland. The bands debut 'Tidelines' is all about the songs, or as they like to refer to... it's a band all about good songs. The band in terms of sound may be a bit more modern sounding and fit well with the current music scene both domestically and abroad. The music is heavy with alot of riffage taking center stage. If I had to peg the vocalist in terms of who he reminds me of, I would probably say Joey Belladonna, but only to a certain extent. You'll get the idea anyway. So with the statements about the band releasing 'good' songs, just how good are they really? Well, it all depends on personal taste obviously. I think they are quite good although you may not see a bunch of hit singles on the album. I would have to feel that the band is going more for good composition then radio friendly chartbuster type of stuff. The album starts out quite heavy with 'The Power of One' and 'First Blood', but then offers up a different type of intensity in 'Stain'. This track has a bit of a darker sound in terms of guitar tone, but also has a bit of melody. 'Soul of Elimination' and 'Colourblind' get back to the heavier riffage and maybe quicker tempo if you like. 'Dead Man Walking' is the mood based track of the album. 'Weakened to Speak' and 'Time is Up' are consistent in terms of intensity with the other heavies mentioned. 'Two Steps (For a New Revolution)' has some good rhythm work. 'Fading' to me is the oddball track of the record. It is by far the most melodic tune on the album and reminds me of something you would hear from Faith No More. It's quite good.

Overall

April brings another dimension to the Spinefarm label's sound. This band isn't really commercial, but would be more that way then quite a bit of the label's roster. The music for the most part is quite heavy with some decent vocal work. This album definitely leans more modern in sound, so traditional metal fans may not be as keen on it. For those who qualify, this one is pretty good.

Questions or Comments? Email us by clicking
here
.