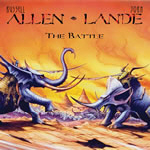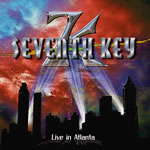 Allen-Lande

'The Battle'

© 2006 Frontiers Records

Seventh Key

'Live in Atlanta'

© 2006 Frontiers Records

Reviewed by Dave Palmer

Russell Allen and Jorn Lande are two of rock's more respected talents. Russell Allen obviously being from Symphony X and Jorn Lande from a variety of projects as well as his solo stuff that seems to catch alot of attention. Put these two guys together and good things are bound to happen. They come together for 'The Battle' which has made an impact. The album has now been out for sometime now, but I think it's worth mentioning due to the quality. The music is heavy, but melodic. The approach definitely sounds like veterans put this album together. The strength of the material makes this a collaboration that will work more than just this release which I believe to be happening as another release is in the works. The music has an edge to it, but also has a certain finesse as well. There are 12 tracks to this album. 'Another Battle' really sets the tempo for the rest of the album. I'm sure that sounds cliche', but it's very true in this case. It gets things started out on the heavy side and continues with tracks such as 'Hunter's Night', and 'Wish For A Miracle'. We get our first taste of the lighter stuff with the track 'Reach A Little Longer'. This particular track really shines vocally. You knew that this was gonna play big sooner or later. The other melodic tune is 'The Forgotten Ones'. The rest of the album has more grit in one way or another. It all really works well. There really are alot of albums out there to choose from these days and it gets hard to take the gamble. It is up to reviewers such as myself to let you know what is worth dropping your money on. This my friends is worth doing just that.

Overall

You really can't miss with this combination. Jorn Lande and Russell Allen are both very respected in the music community and albums like this will only further that. The music is really very good without the filler crap you get with some albums these days. A good listen from start to finish with some very good vocal work without a doubt. Recommended!

Questions or Comments? Email us by clicking here.

Reviewed by Dave Palmer

This particular band definitely has interest from due to the fact that the origins go back to the early 80's and the band Streets. I was a big fan of the Streets album 'Crimes in Mind'. That particular album still holds a spot in my current rotation of albums that I listen to. That brings us to 'Live in Atlanta'. The collaboration here is with Billy Greer and Mike Slamer who both had ties to Streets. You would have to fast forward to the year 2000 to bring the two back together and the formation of Seventh Key. So what exactly would you expect from these guys? Exactly what they always deliver. Great melodic hard rock with a bit of an edge at times. The music on this album is all live with the exception of 3 tracks that close the album out. 'The Storm Rages On', 'Remember You Well', and 'Love Train' are all decent tracks with the latter being my favorite of the three. The live stuff, 12 tracks to be exact are very polished sounding. The music sounds very studio like with the only hint of a crowd is between tracks obviously. It all sounds very nice actually and seems to flow quite well. I would say that my absolute favorite track of the live stuff is 'Winds of War'. This song has everything that I look for in a song. Good heavy sound to the guitars, melodic areas as well as a little moody feel. The band doesn't really go for the 3 minute number bit. You can tell alot of thought is put into each song as it is written as there is a consistent feel to each song without everything sounding the same. Would I recommend an album of this nature as a starter for a new fan? Sure. This doesn't completely sound like a live album as previously mentioned. It would definitely be a great sampling of what this band offers. Pretty decent stuff.

Overall

Seventh Key members Billy Greer and Mike Slamer are at the core of this band. The chemistry works well and the band deliver the music masterfully. It does sound a bit polished, but to me that doesn't end up being a bad thing by any means. It is all quite consistent and the studio tracks at the end are a nice addition. A great effort from these veterans!

Questions or Comments? Email us by clicking
here
.