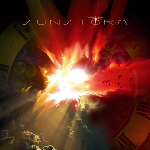 Sunstorm

'Sunstorm'

© 2006 Frontiers Records

Ray Detone

'Guitar Noir'

© 2006 Dancetone Music

Reviewed by Dave Palmer

Sunstorm is quite an interesting bad from a formation standpoint. The songs, or at least some of them had been written awhile back and had made it to the heads of Frontiers Records. This actually occurred through tape trading of all things, but did get these guys very interested in making sure these songs saw the light of day in retail. The musical direction will be familiar to those who heard 'Rescue You', one of Joe Lynn Turner's solo outings. I also felt there was a similar presence in ways to some of the more melodic Rainbow stuff such as 'Street of Dream' from 'Bent out of Shape'. Overall, it's a nice balanced effort with good songs leading the way. Also involved with this project is Jim Peterik. Fans will obviously remember him as the frontman of Survivor and more recently the band Pride of Lions with Toby Hitchcock. Turner and Peterik have collaborated in the past on music with very good results. As far as the music on this particular release, it has a solid rock feel. Nothing gets overly heavy with melody carrying it throughout. It is also a plus to mention that Pink Cream 69's Dennis Ward handled mixing and production duties and as usual has done a masterful job with the sound. Some of my personal favorites include the rockers such as the opener 'Keep Tonight', 'Fame and Fortune', the crunchy 'Fist Full of Heat', and the groove laden 'Love's Gone Wrong'. I also like the melodic numbers such as 'Heart Over Mind', 'Another You', and 'Arms of Love'. It's always nice to hear music from Joe Lynn Turner. I cut me teeth in rock and metal on some of his earlier stuff, so I usually try to pay attention to what he is doing currently. A solid veteran with an amazing vocal ability for sure.

Overall

More of a rock based release with a bit of a Turner era Rainbow feel mixed with some AOR due to the influence of Jim Peterik. The album has a nice balanced feel to it due to either the medium tempo rock sounds or the light melodic numbers. Nothing really gets out of hand in terms of intensity. If you are looking for something that is reminiscent of what was good about the 80's or just good songwriting in general, grab this one.

Questions or Comments? Email us by clicking
here
.
Reviewed By Dave Palmer

It's been awhile since I heard new material from Ray Detone. We reviewed his album 'Strange World' some time back, but hadn't really heard anything from him since that time. That brings us to the subject of this particular review, his latest album 'Guitar Noir'. 'Noir' as it is related here is defined as relating to the film noir genre. 'Guitar Noir' is quite an appropriate title when you realize what this album is all about. Detone wrote over 80 songs for film and chose some of his favorites for the 'Guitar Noir' album. Knowing that this music has the potential to go to film, you know it will probably have a visual aspect in one way or another. That is exactly what I took away from the listen. I could visualize by the sound of the music what type of film would be most appropriate. When writing this type of music I would think that you would have to go for a different mentality. It's not about writing hit singles or the such more then it is about finding that perfect fit in film and not creating something that causes distraction. Ray does a nice job here. Obviously the music is all guitar oriented and instrumental in nature. There is a bit of diversity in the music. You get some darker stuff, a little Latin feel here and there, and then some that reminds me of more mood oriented guitar rock. The keyboard and other enhancements help build a nice overall sound. I think Ray should be able to market this stuff and get it into movies with ease due to the quality of what is here. Like I mentioned, this album is more of a sophisticated venture and may not entice the fickle fan, but I find this album to show another level of Detone's songwriting.

Overall

A very good song oriented album from a very solid musician. Detone put this album together for film and added a nice visual element to each track. There are a variety of tones to go with different types of film. The music should translate well for why it was created. If you aren't the type to shy away from instrumental music, and some diverse at that, you might just find this album worthy.

Questions or Comments? Email us by clicking
here
.