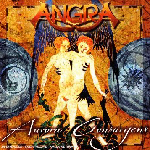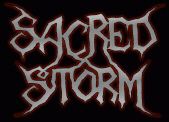 Angra

'Aurora Consurgens'

© 2006 Angra

Sacred Storm

(2 Track Demo)

© 2006 Sacred Storm

Reviewed by Dave Palmer

Been awhile since I had heard some Angra. We actually interviewed Kiko awhile back but I just hadn't checked out anything from the band since that time. I decided to jump into the band's latest effort 'Aurora Consurgens'.  I have to say that I am really pleased. I had forgot how good this band was. I get exposed to a large amount of music and you have to keep moving through it not allowing you to focus for very long. I knew this band was quality which was the prompting for this album. This album to me has many qualities. It definitely boasts of confidence. The music is typical of what you would expect. Good heavy stuff with a nice melodic edge and a frenzied tempo in places. I also like the addition you get at times with bands such as Angra of Latin sounds and the such. This is displayed in one of the albums best tracks 'So Near So Far'. Another quality this album has is depth. I think this actually goes hand in hand with the confidence thing especially when you play this type of music. All in all I think the band can be very proud of this release. There's nothing I would consider weak or filler type material. Some of personal favorites include the already mentioned 'So Near So Far'. The opening track 'The Course of Nature' works well for me as does 'Breaking Ties'. 'Passing By' has that depth I mentioned earlier as do a few others. 'Scream Your Heart Out' has some very cool guitar work to it. Nice hard driving track. The album closer is very cool too. Winds the album down with a more vocal oriented song. Overall, a very nicely done album.

Overall

This is a very good album from a very good metal band. Angra is already established in the Metal world outside of the U.S. and would do very well inside our domestic market if pushed well enough and taken to radio. There is quite a bit of potential on this album. If you haven't heard this band, you really ought to search this one out and check it out. Recommended!

Questions or Comments? Email us by clicking
here
.
Reviewed by Dave Palmer

Hailing from Orange County California is metal act Sacred Storm. The band have been working on material to compile for the upcoming cd being released in the near future. The subject of this particular release is a demo sent to me of some of their original music. The demo contains 2 tracks. 'Man Versus Machine' and 'Legion'. If I were to describe the bands sound, I would definitely have to mention Power Metal and at times Thrash mixed up with a more modern hardcore element in parts. Mainly vocal parts. The guitar work reminds me of the early 90's sound of bands like Exodus and the such. The music on the demo is raw as one would expect but I'm sure will be updated in sound for the final release. These two tracks can also be heard at the bands Myspace website which can be reached by clicking here. I think the band have set a decent foundation. It's only two tracks at this point, but definitely points the listener in the direction that the band will probably head. Keep an eye out for this band if you like it leaning more on the heavy side!

Overall

The band offered up this 2 track demo as promotional material obviously. I can tell you that the band lean heavy and sometimes faster tempo'd. If you want to check out the bands sound, check out their Myspace website by clicking the link below. A band to watch out for in the near future.

Questions or Comments? Email us by clicking
here
.