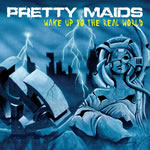 Pretty Maids

'Wake Up to the Real World'

© 2006 Frontiers Records

Reviewed by Dave Palmer

Anyone who knows me knows my passion for Pretty Maids. After being totally blown away early on with 'Future World' I have been faithfully following this band. The one thing that is blatantly clear about this band is they know what works and they do it well. As a fan, you really know what to expect from them each time a new album is released. They usually deliver it too. It's actually been a bit since the band released their previous album, and in that time we have had a member change with former Royal Hunt skinsman Allan Tsichaja taking over for former drummer Michael Fast. In the time of absence the band also acquired a new label with Frontiers Records releasing this latest album. As far as the music goes, as mentioned it's pretty much what you would expect. Very solid hard rock with alot of melody. I like the cover on this album as well. Kind of a spin off of the 'Future World' cover. The music is pretty consistent I think. Most of it is mid tempo stuff with a minor slowdown here and there and also a pick up in intensity at times. You can really go on and on about it, but what is important is that it's not only consistent as an album, but also consistent with alot of the back catalog.  Some of my favorites include the title track, 'I am the End', 'Why Die for a Lie', the classic sounding 'Such a Rush', 'Where True Beauty Lies' which is that great light sounding tack on the album. 'Brave Young New Breed' follows and gets the tempo rocking a bit and 'Terminal Violence' is equally cool and equally heavy. I liked the addition of the cover of the Deep Purple track 'Perfect Strangers'. The band did a nice faithful version of this track. The closing track 'Another Shot of your Love' is very good and closes the album out in a similar fashion as other Pretty Maids albums.

Overall

Another consistent and decent effort from this veteran band of many years. The formula for songwriting hasn't changed much in the last decade. If you know what to expect from previous Pretty Maids albums, you'll already know what you are getting here. A great melodic hard rock album that comes recommended! Do check it out!

Questions or Comments? Email us by clicking
here
.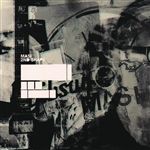 Masi

'2nd Shape'

© 2006 Locomotive records

Reviewed by Dave Palmer

Okay, this is a bit confusing. We already know in the rock world that their is a Masi. Alex Masi, the Italian guitar hero that has been around for some time. Well, this is not that guy. This is another Masi. This Masi plays guitar as well, but his music is much more experimental or alternative in nature. You'll want to not confuse these two guys as if you are a big fan of either, some disappointment might set in. Okay, that aside, let's take a look at the album '2nd Shape' available now through Locomotive Records. The music is definitely rock based and as mentioned before leans to a more modern sound. There are a variety of elements such as a bit of electronics to the sound. There is a cool vibe running through the album that kind of gels the tracks together. I'm not really even sure who I would compare this too as I don't normally listen to alot of this type of stuff. just know that it is definitely alternative with an edge. For me personally, there is something cool about this, maybe almost retro due to some of the raw sound here. It's not totally for me though as I am a more traditional based rocker who isn't afraid to check out more modern stuff. I am just more interested in the more mainstream newer rock stuff. This I feel is not necessarily mainstream, but will probably do pretty decent in today's scene. As far as what I do like on this album, I would include the following tracks. 'Take Your Time' is a decent opener. A little electronics in the sound and a good vibe. 'Sideway' flows off of the opener pretty well and sounds decent. Very raw sounding guitar here. I also like 'Talk to Me'. Maybe the most radio oriented song. Might have chart potential. 'Looking' is another that might have potential that way and is another that I like well. It starts getting more spotty from there as far as what I like, but overall it's probably a 50/50.  Not a bad album, but for traditional fans, they may not be into it.

Overall

Not the Masi you might think. This Masi played in a band called Palmer and now features his work with '2nd Shape'. This album leans much more modern and for the most part is probably considered alternative. Not that there isn't something to like here however. There is a cool vibe through it and it has a bit of edge that makes the listen interesting. Not bad, but if you are a more classic hard rock fan, not sure if it will be your thing.

Questions or Comments? Email Dave by clicking
here
.