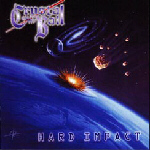 Journey-Arrival

© 2000 Sony Music

Crystal Ball-Hard Impact

            © 2000 Point Music

It's finally here. The first full length release with Steve Augeri handling vocal chores. I knew what a talent Steve was from the great band Tall Stories. After their demise, Steve fronted Tyketto on 'Shine'. Journey is perhaps one of his biggest opportunities.

The album starts out very solid with a rocking number in 'Higher Place'. I see a lot of Tall Stories in this one, but a good mix of Journey as well. One thing I want to mention right away about this album is the amazing slow stuff. Good songwriting like this has been missing for some time in the States. Tracks in particular are 'All the way', 'Loved by you', 'Livin' to do' with it's bluesy elements, and 'With your love'. There are also some good mid tempo rockers on this album well. The album may not totally sound like a classic Journey album, but then why should it?? These are different times. One thing is for sure, the great writing style is evident. Steve does a very good job and is probably the safest replacement out there in todays market. His vocal style is reminiscent of Steve Perry and always has been.

This is one of the best releases 2000 has to offer. Unfortunately, the U.S. will not see it released until first quarter 2001. Take my advice on this one. It is a must have for fans of great melodic rock as well as Journey fans. I think the old fans will really dig this one. I did.

Seems to be some good talent coming out of Switzerland these days. I remember the day that Krokus was king and then came Gotthard. How about another solid band in Crystal Ball. 'Hard Impact' is the bands sophmore effort.

The album opens with an very cool intro that leads into the killer 'Soul Mate'. Very crunchy guitars and great melodies. Songwriting is very consistent with most being rockers. How about some power metal stuff?? There are some tunes here that could be compared to Stratovarius like 'Passion' and 'Crystal Ball'. Maybe it's the keyboards. Very solid nonetheless. You could also make comparisons to Gotthard in tracks like 'Own way' and 'Never Surrender'. The comparison is in the guitar rhythm, but make no mistake, this band has it's own personality. Songs are very good as is musicianship. This album really packs a punch and is one of the better releases this year.

If you are looking for something new that really rocks with great songs, this is a very good bet. I was not very familiar with the band, but found it to be one of my favorite releases of the year. The album is available through importers and is definitely worth checking out. Lots of bang for the buck.