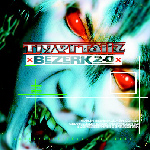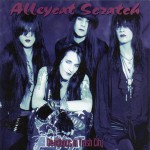 Tigertailz

  'Bezerk 2.0'

© 2006 WTO Records

Reviewed by Dave Palmer

Been quite a while since we heard from Tigertailz and their great brand of sleaze/glam rock. Been even longer since we were treated to the original 'Bezerk' album. Some will tout that album as the best of the bands catalog, so it is only natural at this point to look into the past in terms of sound. The band have put together an album that could have been released one year after the original due to the sound that it has. The music and over the top feel are evident. The band did with this album the same wild things that were done with the original. This feels more like a sequel in my opinion that Queensryche's 'Mindcrime II'. I definitely say that from a musical standpoint. Getting to the sound of the music, you will definitely be comparing some tracks on 'Bezerk 2.0' to tracks on the original 'Bezerk'. The first of these for me was 'One Beat of your Heart'. If I had to compare it, which is actually quite easy, I would say 'Lover Overload'.  Both albums open with a bit of an intro and then into a rocking track. There are decent power ballad style tracks on both with 'I Believe' being the song on the new album. In a nutshell, if you liked 'Bezerk', you are gonna love 'Bezerk 2.0'. There are other cool tracks such as the groove oriented 'Falling Down' with it's tribal beats and chanting vocal work. Very cool song. 'Make Me Bleed' has a nice gritty feel to it without losing the classic sound I talk about. 'Get Real' is a sing along shouter track. 'Dirty Needlez' is classic glam at it's best. For that matter, classic Tigertailz at it's best. On the U.S. version there is also a 12 minute interview as a bonus track which is a nice addition. If you have been starved for really good glam/sleaze rock, and I mean REALLY good when I say that, then this album is going to really do it in a big way for you. Very solid effort!

Overall

It's been quite awhile since Tigertailz threw some new studio stuff at the market. This album is amazing in the fact that it sounds like it was recorded back in the original days of 'Bezerk'. The band can be as bombastic as they were in the earlier days of the career. It's nice to see this in a time where music has been way to serious. If you are a fan of late 80's or early 90's hard rock, this is gonna be a bright spot for you. Do check it out!

Questions or Comments? Email us by clicking
here
.
Alleycat Scratch

'Deadboys in Trash City'

© 2006 Regeneration Records

Reviewed by Dave palmer

Here is an album that really built a cult following. Alleycat Scratch was poised for something big...then came Grunge. The band had some decent success on the circuit, but finally succumbed to the industry. Not that the fans forgot about them. That is kind of the premise for this reissue and review. There is still a pretty rabid fanbase that exists today that was willing to pay big bucks on ebay to get this release. The wait is finally over thanks to new reissue label Regeneration Records. For those who are not in the now on what this band has a great early 90's hard rock sound.  At times it reminds me of heavier Poison although not overall. Alleycat Scratch deals it out with much more attitude. Overall, I found this album to be consistent in terms of style and quality. There is a definite reason why the fans have such a passion for it. There is a definite classic sleaze rock feel to it. Some very catchy sing along stuff like 'Cat's Got Your Tongue' and 'Sexual Addiction'.  The music for the most part is very upbeat. When it comes to more subdued moments I can only point to 'Roses on my Grave'. This album was all about rocking out. I think for today's standards, Regeneration did a good job of making it sound great. It holds up well. There are a couple of tracks added to the album. The crowd favorite 'Love Song' which shouldn't be taken at face value with it's song title and 'I Don't Like Mondays'. With this new reissue there was also a bonus DVD that has some cool vintage live show footage of the band back around the release of this album. It will definitely be a welcome addition to their fans and a look inside at how things were for those who are new to the Alleycat Scratch experience. This would definitely beg the question now, will Alleycat Scratch be interested in doing it again in our present day? Let's hope so!

Overall

It's a very cool classic hard rock album that was basically just timed wrong. The band had built a legion of fans, but everything came apart with Grunge entering and taking the scene. The fans have never lost the passion for this band with copies selling on ebay for a chunk of change. With the reissue available now, we all can have a taste of what this band offered, and it was pretty damn good!

Questions or Comments? Email us by clicking
here
.