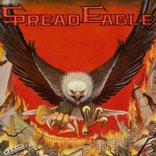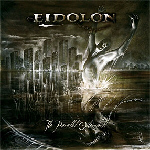 Spread Eagle

    'Spread Eagle'

© 2006 Lovember Records

            Eidolon

'The Parallel Otherworld'

       © 2006 Escapi Music



Reviewed by Dave Palmer

First off, let's not confuse anyone on this review. Yes, this album was released in the early 90's. So why talk about it now? Well, the band is currently active again and their debut release has been remastered and re-issued through Lovember Records. This reissue was discussed in my recent chat with Bassist Rob De Luca. Fans will already be aware of the music after all the years.  For those who may just be embracing hard rock as it was, this band plays it loud and nasty New York style. The band  have a revitalized album with the remaster that sounds really good. The thing that stands out for me with this version of the album is the clarity. I am hearing things for the first time that I am sure were probably there on the first go around. The album also sounds a bit more balanced overall with everything getting equal attention. As Rob said in the interview, the guitars are dropped a little and the drums come out a bit more.  It all sounds good and gives the album a nice updated sound that fits today's standards. As I usually do, I'll let you in on what I like best track-wise. The opener, 'Broken City'  is a great way to get it all going. One of my favorite rock tracks of any album is 'Switchblade Serenade'. This track to me holds the test of time. 'Suzy Suicide' has great attitude as does 'Scratch Like a Cat'. 'Thru These Eyes' gives a bit of balance to the album. All in all the album is a great debut and has an appeal in my opinion to be accessible to a younger crowd as it was quite a few years ago. Sounds great back then and even better now!

Overall

The remaster of the the bands debut sounds great. This album had alot of grit and attitude and really was one of the better releases back in it's day. It showcases the bands true nature as musicians. This album could do well in today's market with it's updated sound. If you haven't checked this one out, it's a flash from the past that holds up well today. Great hard rock record!

Questions or Comments? Email Dave by clicking
here
.
Reviewed by Dave Palmer

Another band I had never heard of is Eidolon. After browsing the album notes, it was quite evident that some of the members were actually familiar. Glen and Shawn Drover who some will recognize from Megadeth are the core songwriters of this band. Also, new to this album is vocalist Nils Rue of Pagan's Mind. That is a benefit in itself due to his vocal range. For those who haven't heard Eidolon, but know of the style Megadeth plays will wonder how this compares. Well, at intensity comparison, there are similarities. Eidolon doesn't go for the throat as Megadeth does however. This band put's alot of finesse to the music. A very progressive touch weaves through the music. I definitely wouldn't classify them as just a progressive metal band as there is alot of power metal in them. The finesse or melodic nature of some of the music creates a nice diverse atmosphere to the music. The tempo changes in tracks is where the progressive feel comes from. In some ways Eidolon reminds me of say Queensryche due to vocals, mixed with early Fates Warning with a touch of Zero Hour there as well. The compositions are decent with each track. I don't have much to compare to as I had not heard this band until this release, but musicianship is very good and the songwriting seems adequate. The track that was really cool was the cover of Mercyful Fates 'The Oath'. I don't think this could have been done more faithfully then the way Eidolon has done it. It's a top notch cover for sure.

Overall

A decent effort from Eidolon. I was a bit surprised to find the quality that the band offers as they have a much bigger gig with Megadeth now. It's really not lacking much and the addition of Nils Rue from Pagan's Mind really propels this album to great heights. It may be the other band at this point for the Drover brothers, but it's obvious they take it serious anyway. 

Questions or Comments? Email Dave by clicking
here
.