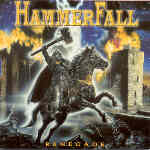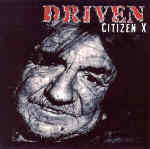 Hammerfall-Renegade

      © 2000 Nuclear Blast

Driven-Citizen X

© 1999 Spooky G Music

Among the powerhouse bands of the recent few years, Hammerfall would have to be included in with the best. On board for production this time is none other than Michael Wagener. He has produced many of the big albums that come to mind in the heyday of the 80's.

Bringing in big names for mixing and production sometimes has a bigger affect than just the pound of the album. Michael let the guys do what they do best. They write very cool power metal. The album does sound very good quality wise as a result of Wageners efforts. 'Templars of Steel' really kicks the album off with finesse and sets the tone. The classic fury is existent as well in tracks like 'Keep the flame burning' , 'Living in victory' and 'The Champion'. The tempo is fast in these, but for those who like mid or slower stuff, it is here as well. One of the finest tracks on the album is 'Always will be'. This is one of the slower tunes, but has a great deal of melody. Another heavy track is the instrumental 'Raise the Hammer'. The song is fast and heavy, but has that melodic element as well. Closing the album is the awesome 'A Legend Reborn'. Very thick sound and very good songwriting.

This is a very good effort from a very tight band. The album definitely takes the band to a new level. I think the decision to use Wagener was a good one as well. I think he brings out the best of the artists he works with. This album is available domestically and is definitely worth checking out.

Tracy G's current project Driven is very heavy. 'Citizen X' is where it started and contains some of the heaviest material that I have heard Tracy do. Everything is over the top with Driven as his album will quickly show.

First thing that comes to mind upon spinning this disc is Pantera. It is that same intensity. That is where it ends though. This band has it's own personality. 'Wrecking Ball' gets things started off and it stays consistently heavy from there. 'Fearless' has a grind to it, but incorporates a groove as well. One of my favorites. 'Strong' kicks it in gear. And how about that guitar shredding?? Tracy can really punish a guitar.  'Camel's broken back' sets a haunting tone. Almost paints a picture with a listen. Very moody track. 'Free' starts off mellow but builds to a crunch. One of the best written on the disc. What a way to close an album. 'Lorax'. Hmmmm, wonder what that is about??  'I speak for the trees'. This is definitely my favorite in every way. One thing that a listener will get from this album is that Tracy and the guys are having a good time making music their way.

If you are looking for a very pissed off album with good musicianship, 'Citizen X' will fill the need. This album is not for the faint of heart. It is consistently heavy. It also will show how creative Tracy G is as a guitarist and songwriter. Driven is definitely a band to watch out for.