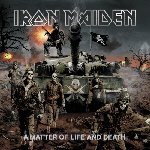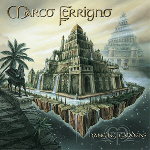 Iron Maiden

'A Matter of Life and Death'

     © 2006 Sanctuary Records

  Marco Ferrigno

'Hanging Gardens'

   © 2006 Lion Music

Reviewed by Dave Palmer

Iron Maiden were one of those bands that I cut me teeth on in terms of metal. This band has been my favorite band for a very long time. With good reason I might add. These guys have been one of the mainstays of Metal  and have had an amazing consistency pretty much all of the way. The bands latest, 'A Matter of Life and Death', I can honestly say is some of the bands best work. With the long track record this band has, one might wonder when the ideas for songwriting might dry up. It's not looking like it will be any time to soon. This album has quite a few of what the band classifies as epic songs. Usually they offer up maybe one or two, but on this album you get what I feel are four or five. To name a few I would include 'The Longest Day' which is a great track that deals with the D-Day landings. 'The Reincarnation of Benjamin Breeg' has that feel to extent and is one of my favorite tracks. 'For the Greater Good of God' and 'The Legacy' definitely qualify as does 'Lord of Light'. If you have listened to iron Maiden for any length of time, you'll know what I mean by epic and the feel these tracks have. A few tempo changes here and there that almost give the album a slight progressive feel. Some of the more straight forward tracks include the opener 'Different World' and maybe 'The Pilgrim'. Overall this album has a nice, consistent feel to it and sports that classic Maiden sound that makes this band great. With the version I got was a bonus DVD. There were a few cool things added to this such as the videos for 'Different World' and 'The Reincarnation of Benjamin Breeg'. Also, there is a fun and interesting 'Making of' featurette that gives the viewer insight into the songs themselves, the recording process and more. There is also a photo gallery as well. If you are going to get this, it's worth getting the version with the DVD.

Overall

This album is amazing. It really hit me how good this release was after the second listen. The album seemed like it had a power to it, but it wasn't realized just how much until after those listens. It's obvious that the band put a decent amount of effort into making this album the best it can be. Great subject material as usual and superb musicianship and deliver make this one a must have!

Questions or Comments? Email Dave by clicking
here
.
Reviewed by Dave Palmer

Those familiar with the Ferrigno, Leal, Kuprij album on Lion Music from a while back will probably know of Marco and what he brings to the musical landscape. He is a well versed guitar player that can write in a complex musical style without losing the accessibility that is needed for entertainment purposes. The music is instrumental in nature obviously. Knowing that, we also know that this album will be much more appreciated by a technique savvy crowd. Alot of the music on this album is somewhere around the five minute mark in length. There is a fair amount of melody and with the way it is delivered, you'll get a bit of a visual feel to it. There are some pretty good guests that lend a hand including Tony Franklin and his unmistakable bass sound, Javier Leal, who also handled production, and George Bellas who is also an influence of Ferrigno's.  Marco Minneman also appears on drums. The album opens with a bit of a rocker called 'Temple of Time'. 'Night in Babylon' follows and is obviously guitar driven, especially in the solo areas, but has a nice atmosphere in it as well. There is a bit of a progressive feel to it in the tempo changes as well. Up next is 'Tower of Babel'. This one is another atmospheric driven tune.  'Sacred City' has a visual quality to it. One of those songs you can close your eyes to it and flow with it. This quality is shared with the track 'Meditteraneo'. Think of that name, and the music will come to mind. If you are familiar with the bass playing of Tony Franklin, you'll obviously recognize his playing style on 'Sacred Garden'. The last two tracks, 'Varanus Komodensis' and 'Closer To The Wind' are similar in tempo and show consistency with this album. If you like your music guitar oriented and instrumental, you'll find alot to like.

Overall

This is a good instrumental guitar driven record. The guest musicians are impressive. I also feel that the album is consistent overall in terms of quality and for the most part tempo. If you aren't afraid of a more technical oriented release, this one is pretty good. If you need vocals and something less complex, you may want to look elsewhere. Decent release nonetheless.

Questions or Comments? Email Dave by clicking
here
.