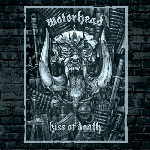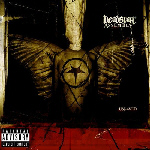 Motorhead

     'Kiss of Death'

© 2006 Sanctuary Records

Deadstar Assembly

        'Unsaved'

   © 2006 Pure Records

Reviewed by Dave Palmer

As rockers age, it seems like you get a slowdown in product being put out to the consumer. Well, Motorhead has never followed the rules and is definitely not starting now. The bands latest effort due in August of '06 shows the band maintaining their edge. What I find to be the high point of this release is the guitar work. I love hard driving rhythms and an overall nasty gritty guitar sound. This album has alot of that. While this album may not be the bands fastest in terms of tempo, it has an intensity all of it's own. We know that intensity is defined by a variety of things, and with this effort, it is the guitar sound that defines that intensity. I think the music has a consistency which I also found nice. Too many albums today have a few good tracks and filler to round it out. Rock bands for the most part get it. They understand that fans are looking for the complete package. Motorhead is no exception. They have been doing this for a very long time and know how to deliver a great heavy album each time. This album gets started off really cool with the track 'Sucker' which has that typical hard driving sound that has been trademark for years. Other tunes that caught my attention include 'One Night Stand', 'Trigger' which is one of may favorites out of all, 'Under the Gun', 'God Was Never on Your Side' which is mellow and has some depth. Totally serious. Anyway, 'Living in the Past' has a nice gritty rhythm to it, 'Sword of Glory' rocks and is a bit catchy at the same time, 'Be My Baby' is killer due to the guitars mentioned. You can't forget Lemmy and that bass on tracks like 'Kingdom of the Worm. Sounds great. The album closer is cool too in 'R.A.M.O.N.E.S.'. Guess I don't have to give any clues on what that one is about. I think that if you are a Motorhead fan, there is going to be alot to like in this album. For that matter, if you are a fan of metal, there is alot to like.

Overall

This is a very solid Motorhead album. I have found this band to be very consistent through the years and nothing changes here. It's heavy, has some classic sounding fast stuff and some very edgy sounding guitar work. This is a complete spin as well. No need to forward tracks as it is a pretty complete and fulfilling listen overall. Recommended!

Questions or Comments? Email Dave by clicking
here
.
Reviewed by Dave Palmer

Here3 is another band that I really had never heard of, but came away liking what I heard. If I was to try to get close to describing their sound, I would probably mention earlier Dope mixed with Marilyn Manson. It's a modern sound with a very dark edge to it. Guitar work is heavy and in some ways the keyboards sound a bit retro which I thought was cool. Not sure if that was the intent of the band, but that is the way that I interpreted it. Apparently this band got things started off very nicely. They sold 10,000 units of their debut album which was an independent and gained some notoriety. I think for good reason. Bands such as this are a dime a dozen these days. It seems to happen anytime a scene pops out a band that does well. In a nutshell, it is hard to stand out in the crowd. Deadstar Assembly achieves that with 'Unsaved'. The buzz is earned. The album opens with intensity with the intro track 'Unsaved pt. 1' which is followed by the frenzied attack of 'Unsaved pt. 2'. You get a feeling for what this band is right away if you haven't heard them. 'Killing Myself Again' shows the band in a more pure guitar sound. I say that because the band experiments throughout the album with sound and effects. This is evidenced by the track 'Dejected' which is one of those that reminded me of the band Dope. Very cool. I also mentioned the retro sound to the keyboards. Take a listen to 'Naive' and you'll get the picture. That is another favorite track of mine. If I was to pick a track I would send to radio, it would be 'And Ashes Will Fall'. It is the mellow track of the bunch, but still has enough edge to not be considered the ballad. The choruses on that particular track are instantly memorable too. Other cool tracks include 'Pale Blue', 'Bled', and 'Serial' are catchy and memorable tunes. 'Deathwish' is cool as well as is the outro track 'Perfectly Destroyed'. I found the usage of these shorter instrumental tracks kinda cool. The one I didn't mention was 'Showing Teeth' and was in the middle of the album. They have a very intense quality to them.

Overall

I came in not knowing who they were and walked away a fan. I guess that's what bands try to accomplish. The music is a type of Industrial/Goth that is reminiscent of earlier Dope and more recent Marilyn Manson. They add their own unique little touch with the keyboard sound. It all worked well for me. If you like anything mentioned as what this band sounds like or just more modern hard rock and metal, you are going to want to check these guys out.

Questions or Comments? Email Dave by clicking
here
.