Reviewed by Dave Palmer

As I write this review, I have to say that I never paid much attention to the late Rory Gallagher. I knew of him, but not much about the music he performed. I guess you could consider this a bit of a starter for me. What this album consists of is some live material from Montreux. Dates are all between 1975-1985. There is no doubt that these recordings are a bit older, but in my opinion that adds to the nostalgia and magic of what these are in the first place. This album pays tribute to Rory Gallagher and his legacy after his death in 1995. The music captures the essence of what Gallagher was about and why he was a regular at the Montreux Jazz Festival. Now while I say Jazz Festival, it is important to note that Rock had started to really make a presence at Montreux and Gallagher was a big part of the reason why. He plays blues based rock and does a very nice job of it. While this isn't something I would listen to on a regular basis, I do have a respect for it. Blues based rock is where my favorite style of music was born from. Good hard rockers will admit this. The flow of emotion through the fingers of a blues based guitarist is unmatched. Blues is an emotion and an instinct. That is what Gallagher brought to the music world and will be remembered for. It's a worthy tribute done by the man himself. There is also a DVD available as well that might be worth your time to check out.

Overall

This album is basically a tribute to Rory Gallagher. The recordings are from a variety of performances from the festival at Montreux. While it was basically a Jazz Festival from the beginning, rock made an impression and artists like Rory Gallagher became fairly regular. The music in terms of quality sounds as good as it can for the time era that it came from. When I feel nostalgic and want a taste of the Blues, I will definitely spin this disc.

Questions or Comments? Email Dave by clicking
here
.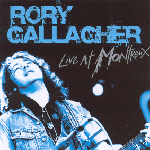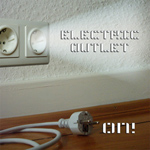 Rory Gallagher

       'Live at Montreux'

© 2006 Eagle Rock Entertainment

Electric Outlet

         'On!'

© 2006 Lion Music

Reviewed by Dave Palmer

Probably the hardest thing for an artist to do when creating an instrumental album is to convey a message without a vocalist or lyrics. It becomes a task that I think Electric Outlet is obviously up to. To give you an idea so you can relate to who this band is, Marcus Deml is the guitarist. Some may remember him from his work with Lenny Wolf and Kingdom Come. I will quickly point out however that this album is in a different style than anything he may have done with Kingdom Come. There is a consistent groove to the songs on this album. The musicianship is really good, and from an accessibility standpoint, I think it is really accessible. Fans tend to be finicky when it comes to the non-vocal thing, but I wouldn't let that stop me here. I either have these instrumentals need to grow on me or they really grab me. There usually is not a grey area. Some I don't like at all. With 'On!', it grabbed me right away. The presentation was really good, the bit of showing off that goes on is tasteful, and the consistency of the listen start to finish is there as well. I also thought it was interesting in the way that the band chose soundbytes. I am a fan of the TV show '24' and noticed something very familiar in the opening of the album. I wasn't able however to pick up on where the vocal soundbyte came from. Guess it's all part of the fun. Anyway, if you don't mind a bit of variety in your music, Electric Outlet has put together a pretty cool album.

Overall

This is a very fun release. I enjoyed the very upbeat tempo that it has. For instrumental music, I think this has a great deal of appeal to fans if they like a bit of fusion and groove added to the mix. Marcus Deml who used to play with Kingdom Come plays guitars on this album and has joined some other very good musicians. If you like a bit of variety to your musical taste, this one is worth a listen.

Questions or Comments? Email Dave by clicking
here
.