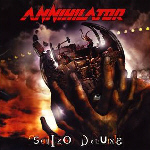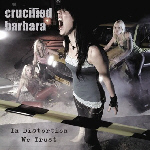 Annihilator

'Schizo Deluxe'

© 2005 AFM Records

    Crucified Barbara

  'In Distortion We Trust'

© 2006 Liquor and Poker Records

Reviewed by Dave Palmer

I always get really siked when I find out about a new Annihilator album. For some reason I was a little late on this particular release, but at the same time was amazed at the consistency of the music on it. Looking back at the many thrash style bands that have come and gone and with the ones that still stick around, Annihilator is definitely going to command some respect with their very consistent and solid career. With the bands latest album, 'Schizo Deluxe', we get more of a return to the heavy sound that the band is known for. I heard a few of the fans bitch about 'All for You' and it's modern sound. I personally didn't have a problem with that album. I do think that for those who may have thought that the previous album was a bit too nu-metal are going to be much happier with this release. Dave Padden is still the frontman of Annihilator and offers up a few different vocal sounds for us this time. I think he does a great job. It is pretty hard to follow up someone like Joe Comeau and what he did for the band while he was there. I think Padden is doing well. As far as some of my favorites go, I like 'Maximum Satan', 'Drive' which reminds me of maybe something from 'King of the Kill' at the start, but gets more ferocious quickly. 'Warbird' is very cool as well. I really like alot of the subject material throughout these tracks. One of these would include 'Plasma Zombies' especially in the ain't that the truth department. I think old fans will pleased with the intensity of tracks like 'Invite It'. Good fast stuff. I also like 'Like Father, Like Gun'. This particular track has a very cool groove to it. Another favorite is 'Too Far Gone' due to it's drive on rhythm guitar. Very cool. 'Clare' is very cool too. This track took me back to the 'Alice in Hell' days. Some haunting stuff. Probably my favorite of the album. You also get a few tracks on the domestic version including 'Weapon X', 'I am in Command', and 'Annihilator'. Sound quality on the latter two isn't quite up to the par of the album, but still interesting indeed.

Overall

I think diehard Annihilator fans are going to like this release. I heard alot of complaints with 'All For You' which I personally liked, but this new album is faster and in my opinion heavier overall. I am a bit biased to Annihilator as they are one of my favorite metal bands, but hey, you know I'm gonna recommend it!

Questions or Comments? Email Dave by clicking
here
.
Reviewed by Dave Palmer

Crucified Barbara is an all female band outta Sweden. The description that I found which developed my interest was Motorhead meets the Runaways. I went to the bands website and checked out a video. At this point I knew the band was for real. Then comes the cd which is obviously the topic of this review. The music on this album has a very nice edge with an equal amount of attitude. It's nice to see the females nailing it as hard as the boys do. As mentioned the album is based in a mid tempo hard rock sound with a slight punkish feel. On the version I have there are three videos for the tracks 'Losing the Game' which is the one I checked out on the bands website, 'Rock 'n' Roll Bachelor', and 'Play Me Hard (The Bachelor's Guitar).  If you want a taste of what this band sounds like, the videos are a great place to start. If you can't find 'em, I know at least the first can be found through the bands website which will be listed below. Crucified Barbara is a band that I think alot of old school fans are gonna like. They have the elements in their music that made alot of the old school stuff great. Big riffs and sing along choruses to name a few. Tracks that I would recommend would include 'Losing the game' obviously. Also, 'Play Me Hard' has a good catchy vibe, the title track 'In Distortion We Trust' has a very heavy groove in the rhythm's which is cool, 'Hide 'em All' is crunchy and instantly likeable. I also like the guitar sound of 'Bad Hangover', good classic sound to it. And finally, you definitely have to love the cover of the Motorhead classic 'Killed by Death'. The band, although female, still have enough grit to pull this track off nicely. If you have been missing the sounds of old school metal and rock, you should check this band out!

Overall

This is a very good release. I like the old school feel that it has. It's all about the way hard rock and metal used to be. Lots of attitude, lot's of loud guitar and the usual rock subjects. This female band has really tapped something special and should have longevity due to sticking to their guns. Very good title! Recommended!

Questions or Comments? Email Dave by clicking
here
.